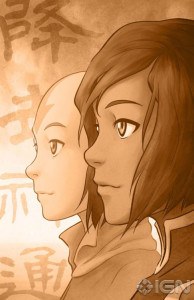 While The Legend of Korra has come to an end, fans can still look forward to panels, signings, and exclusive merchandise at Comic-Con International 2015! IGN has announced that Nickelodeon will have an exclusive limited print drawn by co-creator Bryan Konietzko plus an figurine statue of Chief Beifong available at their booth. Co-creator Mike DiMartino has confirmed on his tumblr page that there will be signings at the Dark Horse Comics booth (#2615) on Friday July 10th from noon till 2:00 PM and at the Nickelodeon booth (#4113) on Saturday, July 11th from 3:00 – 5:00 PM (fans should note that both signings will be ticketed; please check with each booth for details).
Additionally there will be two Avatar/Korra related panels:
Nickelodeon and Dark Horse Comics: Avatar: The Last Airbender and The Legend of Korra panel
Friday, July 10
10am – 11am (PT)
Room 25ABC
Come celebrate Nickelodeon's Avatar universe with the brilliant minds who created it all: co creators and executive producers Mike DiMartino and Bryan Konietzko. Mike and Bryan will discuss past storylines and tease the future at a panel full of surprises and behind-the-scenes stories.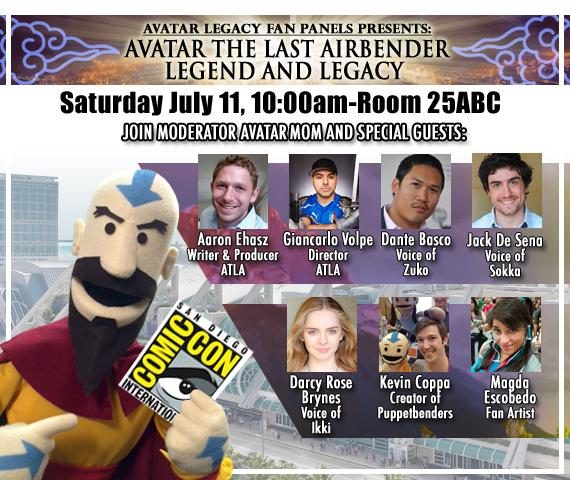 Avatar Legacy Fan Panel
Saturday, July 11
10am – 11am (PT)
Room 25ABC
The story of Aang and Korra has ended in one form, but continues in graphic novels and through the fans. For over 6 years, Avatar Legacy has been hosting panels celebrating the fan's love and loyalty. Moderated by Avatar_Mom, this year we welcome the talented Magda Escobedo Bazaldúa (Fan Artist), Kevin Coppa (Puppetbenders), Giancarlo Volpe (Director ATLA – Producer Green Lantern the Animated Series), Aaron Ehasz (Head Writer: ATLA),Dante Basco (Voice Actor: Zuko), Jack DeSena (Voice Actor: Sokka), and Darcy Rose Byrnes (Voice Actor: Ikki). We may even have surprise guests! The panel also hosts a cosplay contest open to all levels of skill. Hopefuls must be in the panel room to be considered by our scouts. Follow Avatar Mom's Tumblr page for further details on contests and more…