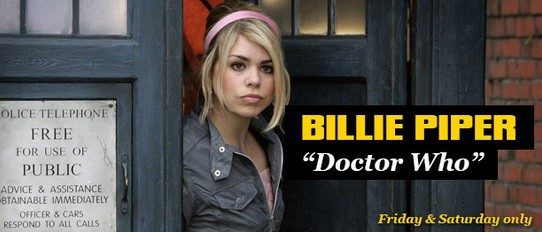 Boston Comic Con welcomes BILLIE PIPER! Piper is best known for her exceptionally popular portrayal of Rose Tyler in the hit BBC sci-fi TV series, DOCTOR WHO. Piper can currently be seen on the Showtime horror series Penny Dreadful as Brona Croft.
Billie Piper will sign autographs and doing photo ops at Boston Comic Con all day FRIDAY JULY  31st and SATURDAY AUGUST 1st. Autographs will be sold on-site at the show. Photo op tickets will be sold online in June *UPDATE* available now at the link!
Previously announced guests include: Stan Lee, Hayley Atwell, Robin Lord Taylor, Brett Dalton, Thomas Jane, Elvira, Eduardo Risso, Humberto Ramos, Jose Luis Garcia-Lopez, Tony Moore, Jason Latour, Joelle Jones, Steve Lieber, Annie Wu, Franco Aureliani, J. Bone, Frank Brunner, Michael Cho, Jeff Dekal, Evan Dorkin, Sara Dyer, Gerry Duggan, Mike Henderson, Mike Kunkel, John Layman, Stacey Lee, Laura Martin, Phil Noto, Dan Panosian, Yanick Paquette, Jeff Parker, Andrew C. Robinson, Kurtis J. Wiebe, Joshua Williamson, Brian Azzarello, Nick Bradshaw, Eric Canete, Frank Cho, Amanda Conner, Jimmy Palmiotti, Andy Belanger, Stephanie Buscema, CB Cebulski, Dave Johnson, Joe Prado, Tim Sale, Amy Reeder, Don Rosa, Stephane Roux, Frank Tieri, and more!
Tickets are now available for purchase. Please note that this year tickets will be sold ONLINE ONLY, there will not be any on-site ticket sales.
If you are coming in from out of town, the official Boston Comic Con hotel is the Seaport Hotel which is attached to the show venue (The Seaport World Trade Center).
About Boston Comic Con:
The Boston Comic Con is a 100% independently run comic book show committed to bringing the biggest and best comic creators to New England. Run by fans for fans, Boston Comic Con is not affiliated with any other convention tour or corporate interests. Hosting over 120,000 square feet of vendors selling comic books, toys, posters, trading cards, and other pop culture memorabilia, this is a destination event for geeks of any stripe. This year's convention will be held Friday July 31st, Saturday August 1st, and Sunday August 2nd at the Seaport World Trade Center, 200 Seaport Blvd, Boston, MA 02210. For more information please go to our website at www.bostoncomiccon.com and follow us on Twitter (@BostonComicCon) and Facebook!