Chuck Palahniuk speaks on Tuesday, May 26, 2015 at 7:30 PM!  Presented by Books & Books in collaboration with The Center for Writing & Literature at Miami Dade College and Tate's Comics. RSVP on Facebook!
You must purchase a voucher ($33) at Books & Books to attend this event or online at the link. In exchange for your purchase of this voucher you will receive (1) one autographed copy of MAKE SOMETHING UP: STORIES YOU CAN'T UNREAD plus a signed copy of the first comic edition of FIGHT CLUB 2.
The voucher also serves as your entry for (1) one person to Chuck Palahniuk's talk on May 26.
Make Something Up will be published on May 26, so this is the launch event! Please plan to claim your copy of the books at the event on May 26. All books will have then been pre-signed by Chuck. There will be no book signing to follow his talk.
You must show your voucher and attached receipt to claim your book and entrance to the event, so if you purchase one in the store please remember to bring it with you that day. Books & Books is NOT responsible for lost or stolen vouchers. For online orders, your voucher will be waiting for you at the event.
—–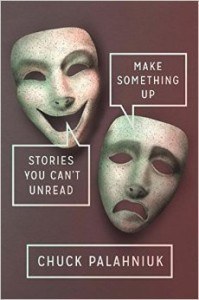 Representing work that spans several years, Make Something Up is a compilation of 21 stories and one novella (some previously published, some not) that will disturb and delight. The absurdity of both life and death are on full display; in "Zombies," the best and brightest of a high school prep school become tragically addicted to the latest drug craze: electric shocks from cardiac defibrillators. In "Knock, Knock," a son hopes to tell one last off-color joke to a father in his final moments, while in "Tunnel of Love," a massage therapist runs the curious practice of providing 'relief' to dying clients. And in "Expedition," fans will be thrilled to find to see a side of Tyler Durden never seen before in a precusor story to Fight Club. Funny, caustic, bizarre, poignant; these stories represent everything readers have come to love and expect from Chuck Palahniuk.
About the Author:
CHUCK PALAHNIUK is the author of fourteen novels—Beautiful You, Doomed, Damned, Tell-All, Pygmy, Snuff, Rant, Haunted, Diary, Lullaby, Choke, Invisible Monsters, Survivor, and Fight Club—which all have sold more than five million copies in the United States. He is also the author of Fugitives and Refugees, published as part of the Crown Journey Series, and the nonfiction collection Stranger Than Fiction. He lives in the Pacific Northwest.
Chapman Conference Center, Miami Dade College Wolfson Campus
245 NE Fourth Street, Miami FL 33132