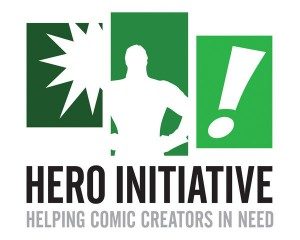 Press Release:
Hero Initiative, the non-profit organization that helps comic creators in medical and financial need, will be attending San Jose's Big WOW! ComicFest on April 18-19th at the San Jose Convention Center, 150 West San Carlos St. in San Jose.
Hero will be at booth #300 on the convention floor, and Hero Initiative Ambassadors on the con floor will collecting for Hero include: Brent Anderson, Dan Brereton, Dave Gibbons, Mick Gray, Rich Koslowski, Joseph Michael Linsner, John Livesay, Bill Morrison, Marat Mychaels, Paolo Rivera, and Chrissie Zullo. Make sure you stop by and do the right thing!
About The Hero Initiative:
The Hero Initiative is the first-ever federally chartered not-for-profit corporation dedicated strict to helping comic book creators in need. Hero creates a financial safety net for yesterday's creators who may need emergency medical aid, financial support for essentials of life, and an avenue back into paying work. It's a chance for all of us to give back something to the people who have given us so much enjoyment. Since its inception, The Hero Initiative has had the good fortune to grant over $700,000 to the comic book veterans who have paved the way for those in the industry today. For more information, visit www.heroinitiative.org or call 626-676-6354.