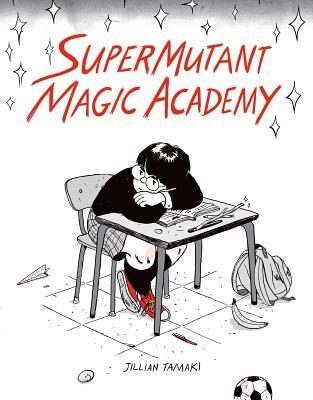 Best-selling author Jillian Tamaki (Skim, This One Summer) appears at Skylight Books on Friday, April 24, 2015 at 7:30 pm for the launch of her new Drawn and Quarterly graphic novel, SuperMutant Magic Academy! There will be a slideshow presentation and signing to follow.
SuperMutant Magic Academy paints a teenage world that is moody and ennui-filled but also wry and irreverent: the SuperMutant Magic Academy is a prep-school for mutants and witches but their paranormal abilities take a back seat to everyday teen concerns. Wendy, Marsha, Cheddar, Frances, and the other students will be your guides through the D&D games, performance art, unrequited crushes, and spell class tests that are the staples of life at the Academy.
Jillian Tamaki is a Canadian cartoonist and illustrator. She is the co-creator of the graphic novel Skim (with Mariko Tamaki), which was listed as one of the New York Times' Best Illustrated Books of 2008 and was nominated for four Eisner Awards. Her second collaborative work with Mariko Tamaki, the graphic novel This One Summer, was a New York Times Bestseller and won the 2014 Governor General's Literary Award. Tamaki has won two Ignatz Awards for her work onSuperMutant Magic Academy. She lives in Toronto, Canada.
Skylight Books
1818 N. Vermont Ave, Los Angeles, CA 90027
323.660.1175