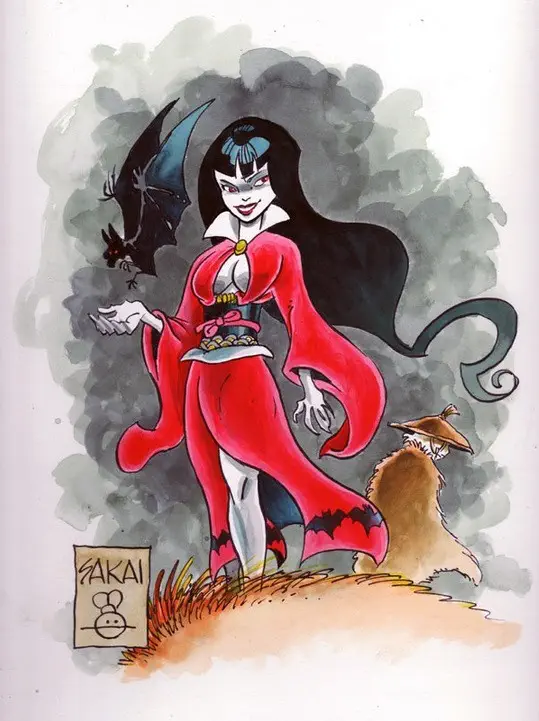 Press Release:
The annual Big Wow! ComicFest Art Auction will be held on Saturday April 18th, 2015. The blind auction will run throughout the day in the art gallery in the back of the hall, and will wrap up at 5:30 PM Interested parties must sign up for a bidder/paddle number and then can begin placing blind bids on the art they are interested in.
Art that does not receive three bids will sell for the highest offer at 5:30 PM, and ones that do get at least three bids will be placed in the live auction that begins at 6:30 PM in Panel Room B. There will be a cash bar in the room, and hopefully a number artists that submitted their works to the auction in attendance. Pictured is Stan Sakai's submission, additional pieces contributed by Neal Adams, Joe Linsner, Brandon Peterson, and many more can be seen at the link…
Guests include: Brent Anderson, Sanya Anwar, Stephen Bissette, Mark Bode, Nick Bradshaw, Tim Bradstreet, Dan Brereton, Danny Bulanadi, Frank Cho, Frank Cirocco, Lela Dowling, Tom Felton, Stephen E. Gordon, Adi Granov, Mick Gray, Rich Koslowski, Jake Lloyd, Ron Lim, Toshio Maeda, Steve Mannion, Chris Marrinan, Bill Morrison, Darick Robertson, Tone Rodriguez, Don Rosa, Stuart Sayger, Liam Sharp, Scott Shaw, Bill Sienkiewicz, John Totleben, Herb Trimpe, Rick Veitch, Tim Vigil, Ben Wolstenholme, Thomas Yeates, and more.
For more information on Big WOW! Comicfest please check the website (www.bigwowcomicfest.com) and follow on Facebook, Twitter, and Instagram!