Dexter's Laboratory. Johnny Bravo. The Powerpuff Girls. Cow and Chicken. Ben 10. Samurai Jack. Ed, Edd n Eddy. Camp Lazlo. For over twenty years, Cartoon Network has provided original programs that are now considered classics. Young adults look back fondly on the series. Kids cosplay as the characters. Every time I take my daughter into Hot Topic (with a hat pulled over my eyes, not to keep from being recognized, but because, to the target audience, I don't belong), I see familiar faces adorning shirts, shoes, notebooks, lunch boxes, lip balm, and lots of other stuff. Now the network has released DVDs of two new series, Clarence and Steven Universe. Will they, too, become part of the national zeitgeist?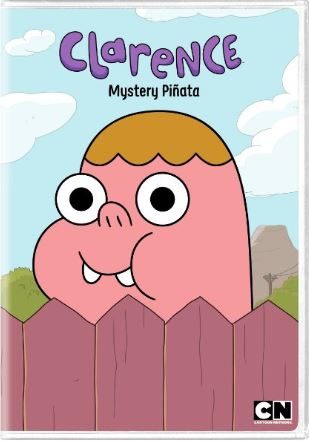 Previewed at the 2013 San Diego Comic-Con and debuting the following year, Clarence tells the story of Clarence Wendell, a fourth-grade boy with an unusual trait in these postmodern times: he sees the good in everybody. His best friends are Jeff Randell and Ryan "Sumo" Sumozski. Jeff is brainy and aloof (hence, the square-shaped head), while Sumo is the spaz of the trio. Series creator Skyler Page worked on the industry juggernaut Adventure Time, and Clarence sports a similar style and absurd humor. Critics like the show, which will appeal more to younger kids than teens. Adult viewers may be disappointed with this DVD, however, which has only 12 episodes, less than half of the 29 that have aired. The pilot episode is present, but there are few special features–no commentary or deleted scenes, and no creator interview (which makes sense: Page was fired from the show back in July). Still, the episodes are entertaining, if not clever, and at roughly 13 minutes each, you can watch one while cooking Kraft Mac & Cheese. Always a plus.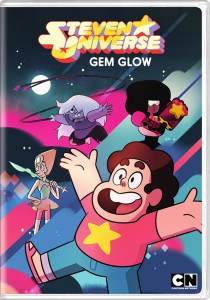 Steven Universe is a little older, premiering on November 4, 2013. Created by Rebecca Sugar (another Adventure Time alum!), the show has a more action-oriented plot than Clarence. Steven is the youngest member of a group of warriors called the Crystal Gems. Drawing their power from four mystical gemstones–garnet, amethyst, pearl, and rose quartz–the team hangs around the town of Beach City, racking up one cool adventure after another. Occasionally, they do something heroic, such as using a laser to destroy a giant, menacing red eye, but more often, Steven's troubles are, beneath their sci-fi veneer, pretty typical. In one episode, he forms a magic bubble to protect a would-be girlfriend, Connie, from a falling rock, but then he can't make the bubble disappear. This is just like childhood: getting in over your head with no real plan how to get out. Perhaps it is this universality of theme that has made Steven Universe a hit with critics and viewers alike. One quibble: the 12 episodes on the DVD are not episodes 1-12 but a random assortment. Because each episode builds on the next, watching them out of order is not the ideal way to experience this highly enjoyable show.
Clarence episodes
1. Fun Dungeon Face Off
2. Pretty Great Day with a Girl
3. Lost in the Supermarket
4. Clarence's Millions
5. Jeff's New Toy
6. Zoo
7. Rise 'n' Shine
8. Average Jeff
9. Slumber Party
10. Dream Boat
11. Too Gross for Comfort
12. Neighborhood Grill
Steven Universe episodes
1. Laser Light Cannon (originally episode 2)
2. Gem Glow (originally episode 1)
3. Cat Fingers (originally episode 6)
4. Bubble Buddies (originally episode 7)
5. Tiger Millionaire (originally episode 9)
6. Steven's Lion (originally episode 10)
7. Onion Trade (originally episode 15)
8. Giant Woman (originally episode 12)
9. Lars and the Cool Kids (originally episode 14)
10. Rose's Room (originally episode 19)
11. Beach Party (originally episode 18)
12. Steven and the Steven (originally episode 22)
About Cartoon Network
Cartoon Network (CartoonNetwork.com) is regularly the #1 U.S. television network in prime among boys 6-11 and 9-14. Currently seen in 97 million U.S. homes and 194 countries around the world, Cartoon Network is Turner Broadcasting System, Inc.'s ad-supported cable service now available in HD offering the best in original, acquired and classic entertainment for kids and families. In addition to Emmy-winning original programming and industry-leading digital apps and online games, Cartoon Network embraces key social issues affecting families with solution-oriented initiatives such as Stop Bullying: Speak Up and Move it Movement.
Turning Broadcasting System, Inc., a Time Warner company, creates and programs branded news, entertainment, animation and young adult media environments on television and other platforms for consumers around the world.