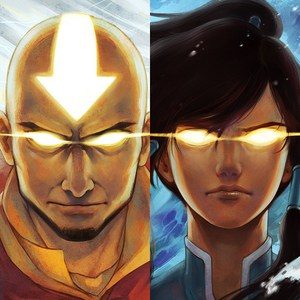 Creators Bryan Konietzko and Michael DiMartino appear on a panel at Gallery Nucleus on Saturday March 21, 2015 at 2:00 PM for the closing of the Avatar: The Last Airbender/Legend of Korra retrospective exhibit.
Press Release:
Back for the closing reception, creators Bryan Konietzko and Michael DiMartino will be in the gallery for a short moderated Q and A panel and talking a bit about their creative process. Bryan and Mike will be available for signing after the panel for guests only.
2 – 3 new tribute pieces will be on display in the main gallery. In our atrium gallery, will be original Avatar the Last Airbender development artwork by Bryan Konietzko, not previously exhibited.
Aang statues and new exclusive prints of select works in the exhibition will be released for the first time to attendees of the panel.
Signing / Ticket Details
*1 item person. No outside items.
*Tickets will go on sale on this page starting March 18th. $10 a seat, limit 2 seats per person. Orders of more than 2 will be voided and refunded.
*Print or show us from your smart phone, your order confirmation to the event.
*Limited to 100 seats and standing room for 50 people, 150 attendees total. Seats are first come first serve
Gallery Nucleus
210 East Main Street, Alhambra, CA 91801
626.458.7477