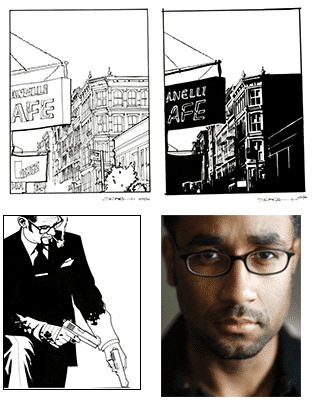 Press Release:
The Society of Illustrators is proud to announce that acclaimed comics and graphic novel artist SHAWN MARTINBROUGH will speak on Thursday, February 26th from 6:30 – 8:30 PM about his career, his influences, and his noir-influenced approach to storytelling as part of SI's celebration of Black History Month. Martinbrough will be joined in conversation by comics writer and historian Danny Fingeroth, longtime editor of Marvel's Spider-Man comics line. Learn more…
Admission:
$15 Non-members
$10 Members
$7 Seniors/students (with valid ID)
ABOUT SHAWN MARTINBROUGH:
For two decades, Martinbrough has worked for the top publishers in the comic book industry. His DC Comics work includes a two year collaboration with novelist Greg Rucka on Batman: Detective Comics. In it, Shawn co-created characters that were featured in the Batman: Gotham Knights" animated DVD and currently appear on the FOX television series, "GOTHAM." Shawn's graphic novel projects for Marvel Entertainment include "Luke Cage Noir," "Black Panther: The Most Dangerous Man Alive," and a "Captain America" graphic novel for the U.S. Army & Air Force Exchange Service that had a million copy print run. It was distributed exclusively on military bases across the country in connection with the release of the feature film, "Captain America: The First Avenger."
Shawn is currently illustrating "Thief of Thieves," the bestselling Image Comics graphic novel series written by Robert Kirkman, the creator of the hit AMC television series, "The Walking Dead." "Thief of Thieves" is in development for a live action television series.
Martinbrough is also the author of "How to Draw Noir Comics: The Art and Technique of Visual Storytelling," published by Random House and reprinted in several languages.
A native of the Bronx, Martinbrough majored in art at New York's Fiorello H. LaGuardia High School of Music & Art and obtained his BFA in Illustration from The School of Visual Arts. His website is: www.shawnmartinbrough.com
ABOUT DANNY FINGEROTH:
A longtime editor and writer for Marvel Comics, best known for his work on Spider-Man, Danny Fingeroth is an historian, writer and teacher of comics and graphic novels. His books include Superman on the Couch: What Superheroes Really Tell Us About Ourselves and Our Society and The Rough Guide to Graphic Novels. Find out more at: www.dannyfingeroth.com.
Society of Illustrators
128 East 63rd Street, New York, NY 10065