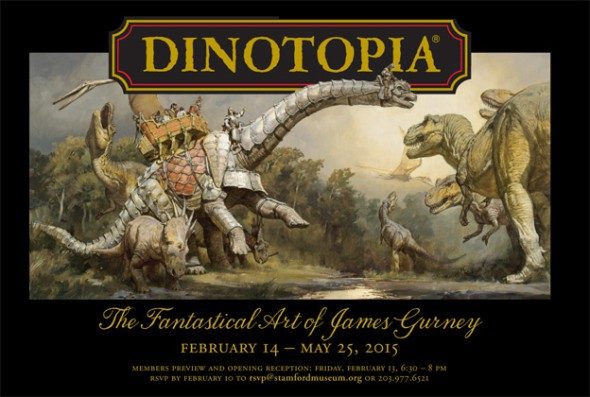 James Gurney, creator of Dinotopia, appears at the Stamford Museum on Sunday, March 1, 2015 from 3:30-4:30 PM to offer a mini-lecture about the making of Dinotopia, followed by a book signing. Copies of Gurney's Dinotopia editions and art instruction books Imaginative Realism and Color and Light will be available at the gift shop.
Press Release:
A fascinating exhibition of original oil paintings from The New York Times bestseller Dinotopia: A Land Apart From Time (1992), Dinotopia: The World Beneath (1995), and Dinotopia: Journey to Chandara (2007) by James Gurney. The fantastical art in the Dinotopia series was inspired by Gurney's childhood fascination with archaeology, dinosaurs, lost civilizations, and art. He went on to work with scientists and historians at National Geographic magazine to create images of ancient worlds; a project that inspired the conceptual framework for Dinotopia.
For fossil fans and dinosaur devotees, a variety of specimens from the Paleontology Collection of the Stamford Museum will be exhibited. The exhibition has been organized by the Norman Rockwell Museum.
RELATED PROGRAMMING
Fantasy Drawing Workshop with James Gurney Imaginative Realism:
How to Paint What Doesn't Exist
Sunday, March 1, 1 – 3 pm, Leonhardt Gallery
James Gurney will discuss the practical methods used to translate an imaginative scene into a realistic image for aspiring and intermediate artists and conduct a demonstration drawing and mini-workshop allowing students to try their hand at fantasy drawing with watercolor pencils. He will cover research, thumbnail sketches, models posing, maquettes, photo reference, and plein-air studies. A chronicle of the creative development that led to the fantasy universe of Dinotopia will be presented. Materials will be provided. A selection of Dinotopia books will be available for sale and for signing. Call 203.977.6521 to register.
Members: $40 per person | Non-Members: $55 per person.
Limited to 20 participants and recommended for ages 12 and up.
Stamford Museum & Nature Center
39 Scofieldtown Road, Stamford CT 06903
203.322.1646