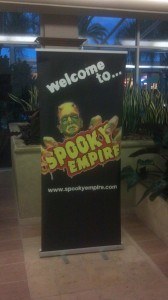 "Why do you think horror movies are so popular?" asked my friend John. It was Friday evening, October 24, and we were standing in Tobin Bell's autograph line at Spooky Empire, the semiannual fright fest held in sunny Orlando. I have known John since 1990, when he, a transfer student from Massachusetts, walked into my high school Spanish class and took the only available seat–the one next to me. After high school, we worked together at McDonald's, and when he moved to Tennessee for college, and then Florida to work in the nursing home industry, we remained friends. He was with me at the Minneapolis Wizard World, as a matter of fact.
And this is what our friendship is like: deep thoughts. Why are horror movies popular? "Fear is primal," I answered. "We like being scared because it is a release, especially when the object scaring us is revealed to be harmless, like a man in a mask." (The Atlantic magazine ran a great article on exactly this topic; I'll recommend it here.) We talked about it more, stepping forward every so often as the incredibly slow-moving line moved forward (with incredible slowness). This is not because the line was mismanaged; there were simply a lot of people in it.
I have seen all the Saw movies, and Tobin Bell was the one person I wanted to see at my inaugural Spooky Empire, which calls itself "one of the largest horror cons in the US." Horror cons tend to be peopled by B- and C-list celebs, but this one had some moneymakers: Tara Reid, David Guintoli and Bitsie Tulloch (from TV's Grimm), Derek Mears, Chris Sarandon, some of The Walking Dead cast, most of Rob Zombie's Halloween cast, and, of course, Tobin Bell. He was very gracious with his time, talking and laughing with attendees. The person in front of me had a Tobin Bell mask for him to sign, and I wanted to ask Tobin how it felt to hold his own face in his hands, but I was afraid it'd be weird. Instead, I handed him my still-in-the-box figure of Billy, Jigsaw's creepy puppet (which I had already had Cary Elwes sign at DragonCon). Below is the result.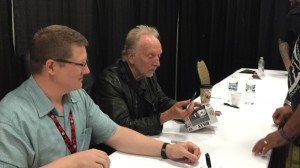 Want a close-up of Billy? Here it is.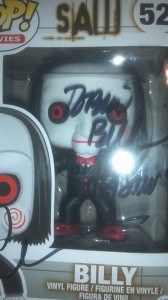 Sadly, the household-name-ness did not extend to the authors. I am a writer, an English professor, and a sometime bookseller. In other words, I know literature. As a 25-year fan of horror fiction, I know horror literature. But I did not know a single writer in attendance. (Full disclosure: Carrie Harris was there. She seems pretty big in YA circles, and she got the big-author-convention treatment, meaning she got a panel of her own and her picture was the biggest in the program.) I seem to remember Clive Barker attending a couple of years ago, so I know Spooky Empire can attract true literary stars. I was disappointed that they hadn't done so this year.
The good thing is that the writers who were there stayed paneled-up. They led not just author talks but actual seminars on writing and publishing, some of which were tailored to specific interests, such as Friday night's "Writing for Screen and Other Mediums." Though the name should have been "media" (sorry, writerly tic), it was a good seminar.
Halloween is a cold weather holiday, so it seemed strange to attend a horror convention in a T-shirt and no jacket. Yet I enjoyed the experience. The dealer room seemed small for "one of the largest horror cons in the US," but some cool merchandise was available. I talked to one dealer who had a collection of vintage costumes, most still in the boxes. Had he had those costumes for 40 years, or did he buy them like that? "I assemble them," he said, buying a mask here, pants there, the box from some other source. How long does it take him to put together a costume? Over 10 years, for some. He also had an assortment of stuff like we used to order from the ad pages in 70s-era comics and magazines–stuff like X-ray glasses, monster teeth, fake blood, all still in packages, most in mint condition.
These are the dealers I like. Others had mostly new stuff, some of which I see over and over at conventions. This, however, I had never seen.
One suggestion I have for Spooky Empire: better signage. John and I went through the hotel main entrance (Doubletree at Universal), followed the crowd of ghouls and zombies and normal-looking people (who could be homicidal maniacs because, as Wednesday Addams reminds us, "they look like everyone else"), and got all the way to what turned out to be a side entrance to the convention, where a guard pointed back the way we had come and said, "The convention entrance is that way." A sign to that effect would have kept us from going in the wrong way. Also, a hotel employee was standing out front, directing drivers to the convention parking lot, up the street from the hotel parking lot. I think a sign could have done that job as well.
These complaints are trifles, though. Spooky Empire is as well-run as it is well-known, and I look forward to going again. I won't get another weekend pass–there isn't enough for multiple days–but the one-day pass is worth the money. John, who isn't a horror guy, concurs, saying he enjoyed seeing the celebs and cosplayers. Where will we go next? Dunno. But when we figure it out, you–or, since I'm from North Carolina, y'all–will be the first to know.
See below for a few more Spooky Empire pics.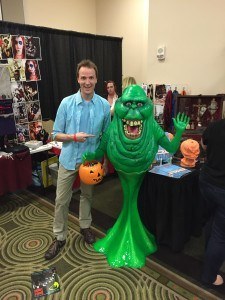 Look at that disgusting blob! And Slimer, too.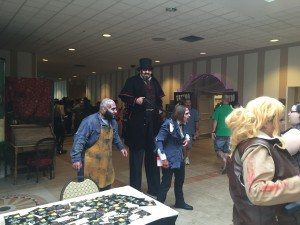 With guests like this, who needs security?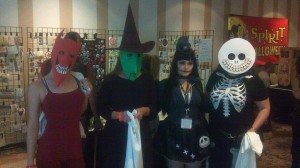 "There will be time, there will be time / To prepare a face to meet the faces that you meet."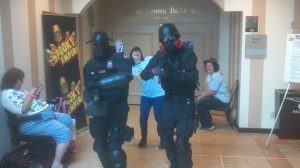 Word to the wise: don't photo bomb guys who have actual bombs.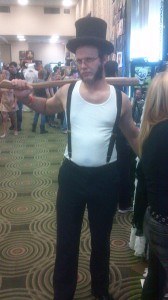 Abraham Lincoln, convention goer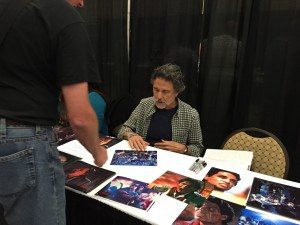 Chris Sarandon (Jack Skellington) signs a Nightmare Before Christmas picture for my daughter.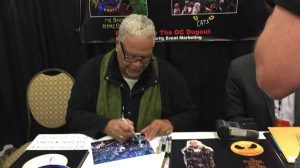 Ken Page (Oogie Boogie) signs the same picture.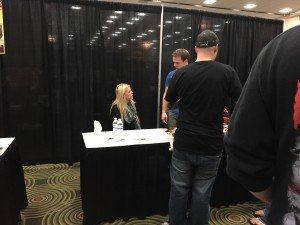 Fans chat up Tara Reid.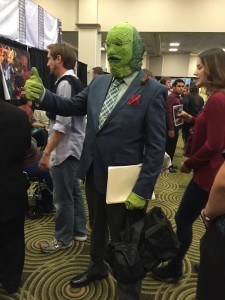 I'm guessing this is a teacher from the Black Lagoon.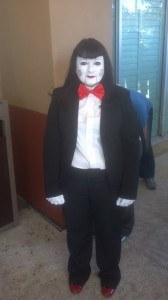 I wonder what Tobin Bell thought of HER.