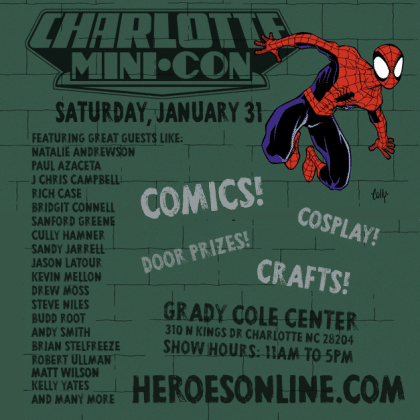 Press Release:
Charlotte MiniCon is Charlotte's longest running comic convention and 2015 is going to be our biggest yet! It's all brought to you by Heroes Aren't Hard to Find the same folks who put on Heroes Convention. Admission is free with registration and a donation of a non perishable food item to the Second Harvest Food Bank.
Check out the great vendors and comic creators who are coming:
Complete 2015 Charlotte MiniCon Guest List (so far)
NATALIE ANDREWSON
PAUL AZACETA
J CHRIS CAMPBELL
RICH CASE
BRIDGIT CONNELL
SANFORD GREENE
CULLY HAMNER
SANDY JARRELL
JASON LATOUR
KEVIN MELLON
DREW MOSS
STEVE NILES
BUDD ROOT
ANDY SMITH
BRIAN STELFREEZE
ROBERT ULLMAN
MATT WILSON
KELLY YATES
AND MANY MORE!
Costume Contest: Come in costume for a chance to win prizes. Register on site to compete!
Door Prizes each hour!
There is plenty of $2 parking at Grady Cole