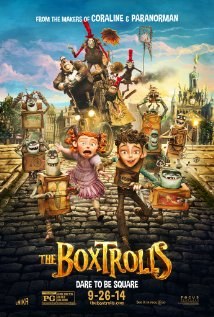 Press Release:
The Cartoon Art Museum goes behind the scenes of The Boxtrolls with co-directors Graham Annable and Anthony Stacchi on Wednesday, December 3, 2014 from 6:00-7:00 pm in a special event presented by Focus Features. Annable and Stacchi will share art and stories behind the making of The Boxtrolls, produced by LAIKA, the Portland-based animation studio owned by Nike co-founder and Chairman Philip H. Knight, and was released nationwide by Focus Features on September 26, 2014. The exhibition features concept art and puppets from the upcoming film, LAIKA's third stop-motion animated film to be shot in 3D.
About The Boxtrolls:
The Boxtrolls is the all-new family event movie from LAIKA, the creators of Coraline and ParaNorman, that introduces audiences to a new breed of family – The Boxtrolls, a community of quirky, mischievous creatures who have lovingly raised a human boy named Eggs (voiced by Isaac Hempstead Wright of Game of Thrones) in the amazing cavernous home they've built beneath the streets of Cheesebridge. When the town's villain, Archibald Snatcher (Academy Award winner Ben Kingsley), comes up with a plot to get rid of the Boxtrolls, Eggs decides to venture above ground, "into the light," where he meets and teams up with fabulously feisty Winnie (Elle Fanning of Maleficent). Together, they devise a daring plan to save Eggs' family. Based upon the book Here Be Monsters, by Alan Snow, The Boxtrolls is directed by Anthony Stacchi and Graham Annable and is MPAA-rated PG.
About LAIKA:
Fueled by the vision of its owner, Nike co-founder and Chairman Philip H. Knight, and its President & CEO Travis Knight, LAIKA is a feature film animation company located in Portland, Oregon. LAIKA's first two films, Coraline (2009) and ParaNorman (2012) were nominated for Academy Awards® and BAFTA® Awards.
Cartoon Art Museum
655 Mission Street, San Francisco, CA 94105
(415) 227-8666