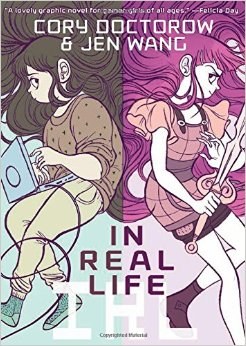 Cory Doctorow appears at the University Bookstore on Friday October 17th at 7:00 PM to sign his new graphic novel IN REAL LIFE!
Author, activist, journalist, and blogger, Cory Doctorow is known for using his fiction to address topics that matter to him. In the visually stunning In Real Life, his new graphic novel created with cartoonist Jen Wang, he explores adolescence, gaming, poverty, and culture-clash through the story of a female MMO player who befriends a "gold farmer," a poor Chinese boy whose avatar collects valuable objects in the virtual world and sells them in order to survive in the real one. Stopping in Seattle for a reading and signing of his new book, Doctorow will join us for an introduction of its exciting visuals, thoughtful story, and exploration of the real problems that follow us even into the virtual and entertainment-based worlds we often try to escape inside.
Cory Doctorow is a science fiction author, activist, journalist and blogger, the author of Tor Teens/HarperCollins UK novels like For the Win and the bestselling Little Brother. He was also the former European director of the Electronic Frontier Foundation and co-founded the UK Open Rights Group. Cory has written for Wired, The Guardian, Publishers Weekly, Make, Locus and others. Born in Toronto, he now lives in London. Contact Cory by Email and follow him on Twitter, Flickr, and at his website, craphound.com.
University Book Store
4326 University Way NE, Seattle, WA 98105