Press Release:
Comic Art House takes New York Comic Con by storm! All artists will have original art for sale and prints! Most artists will be accepting commissions on site! You can find our very talented artists all in one place!
NYCC 2014 Artist Locations: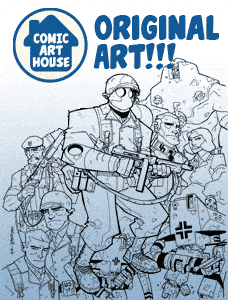 Agnes Garbowska C15
Autumn Frederickson P15
Ben Templesmith M1
Billy Fowler I15
Buzz E9
Cat Staggs I8
Chrissie Zullo I18
Christian DiBari J14
Christopher Uminga I17
Daniel Govar A3
Jim Calafiore V1
Jay P Fosgitt D12
Jeff Dekal A2
Jessica Cox (h-eri) V16
Joe Eisma W15
Edwin Huang W16
Katie Cook C10
Keron Grant BB11
Leo Leibelman S3
Mark Dos Santos B17
Mark Texeira F4
Matthew J Fletcher I16
Mike Lilly E18
Nen P10
Norman Lee O9
Pat Davidson B7A
Sara Richard A4
Scott Wegener I12
Stephane Roux E10
Secure your order!
In addition to these artists, Mike Henderson, Steve Scott, and Brent Peeples will be appearing at their publisher's booths throughout the weekend!
Several artists, but not all, are accepting pre-orders for commissions, some for pick-up and some to be completed at the show. Commission slots are limited, so please contact me at bob@comicarthouse.com or text me at 603-657-0480.
We look forward to seeing you at NYCC and thank you for your patronage!