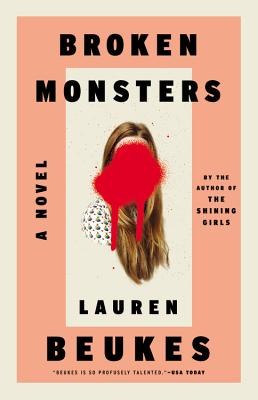 Lauren Beukes appears at Porter Square Books to sign her new book, Broken Monsters, in conversation with novelist Joe Hill on Tuesday, September 23rd at 7:00 pm!
Press Release:
A criminal mastermind creates violent tableaus in abandoned Detroit warehouses in Lauren Beukes's new genre-bending novel of suspense.
Detective Gabriella Versado has seen a lot of bodies. But this one is unique even by Detroit's standards: half boy, half deer, somehow fused together. As stranger and more disturbing bodies are discovered, how can the city hold on to a reality that is already tearing at its seams?
If you're Detective Versado's geeky teenage daughter, Layla, you commence a dangerous flirtation with a potential predator online. If you're desperate freelance journalist Jonno, you do whatever it takes to get the exclusive on a horrific story. If you're Thomas Keen, known on the street as TK, you'll do what you can to keep your homeless family safe–and find the monster who is possessed by the dream of violently remaking the world.
If Lauren Beukes's internationally bestselling The Shining Girls was a time-jumping thrill ride through the past, her Broken Monsters is a genre-redefining thriller about broken cities, broken dreams, and broken people trying to put themselves back together again.
Lauren Beukes writes novels, comics, and screenplays. She's the author of the critically-acclaimed international best-seller, The Shining Girls, about a time traveling serial killer, Zoo City, a phantasmagorical Joburg noir which won the 2011 Arthur C Clarke Award, the neo political thriller, Moxyland. She worked as a journalist and as show runner on one of the South Africa's biggest animated TV shows, directed an award-winning documentary and wrote the New York Times best-selling graphic novel, Fairest: The Hidden Kingdom. She lives in Cape Town, South Africa.
Joe Hill is the author of three novels, Heart-Shaped Box, Horns, and NOS4A2, as well as a prize-winning collection of stories, 20th Century Ghosts. He also wrote a pair of comics: Locke & Key and Wraith (which ties into the world of NOS4A2). Some nice people gave him an Eisner Award for his work in funny books, which is a great honor, even if "funny" probably doesn't do a good job of describing the kinds of things that happen in the comics.
Porter Square Books
25 White Street, Cambridge, MA 02140-1413
617-491-2220