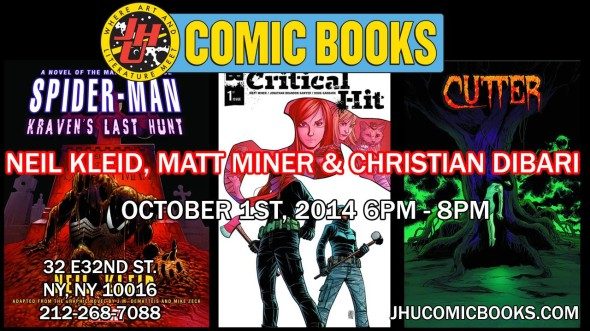 Neil Kleid, Matt Miner, and Christian DiBari sign at JHU Comic Books on Wednesday, October 1st from 6:00 – 8:00 pm!
Press Release:
Three fantastic creators will be represented on the shelves and we will have them in the the flesh!
Neil Kleid (Brownsville, The Great Khan) will be here for his Kraven's Last Hunt prose novel from Marvel Comics, which is an adaptation of the classic Spider-Man story in a new format.
Matt Miner (Liberator, Vertigo Quarterly) will be here for Critical Hit #1, which is his follow-up to the Liberator series with a new spin-off.
Christian Dibari (Ghost Cop, Deadpool) will be here for Cutter #1, a new weekly horror book from Image Comics that will run the month of October!
We're very happy and proud to have all three excellent creators here on the same day, so come through on October 1st, 2014 and meet these three awesome people for a fun and crazy signing!
*Purchase of Kraven's Last Hunt (Novel), Critical Hit #1 or Cutter #1 required for participation in signing event.
JHU Comic Books MANHATTAN
32 East 32nd Street, New York, NY 10016
(212) 268-7088