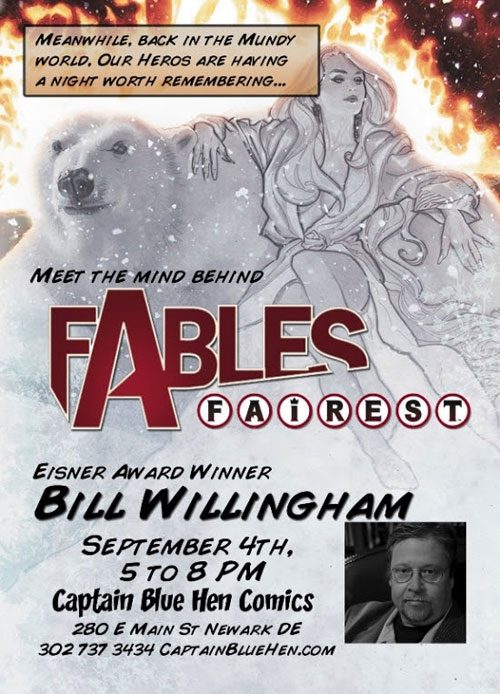 Press Release:
Bill Willingham, the man who created Fables, one of the most loved and revered titles to hit comic book stands since Sandman, is coming to our area.
On September 4, Willingham will be at Captain Blue Hen Comics in Newark, Delaware from 5:00 to 8:00 PM. He will be meeting with fans, signing comics and talking about the quickly approaching finale of Fables, which is scheduled to come to a conclusion with issue #150.
As everyone knows, Willingham's career has encompassed more than just Fables. He was also the creator and writer of the fondly remembered book The Elementals as well as the DC Comics series Shadowpact and Day of Vengeance. But it's safe to say everyone will be talking about Fables, the long running critical and commercial hit that has enchanted fans since the first issue. With the series coming to a close, here is your chance to tell Willingham what the series has meant to you and why it's so special.
Captain Blue Hen Comics will have plenty of Fables books on hand as well as back issues and everything a comic book fan would need or want. So make your plans now and get your books ready. Bill Willingham doesn't make it to the east coast that often, and who knows when it might happen again once Fables ends.
Captain Blue Hen Comics
280 E. Main Street, Newark, DE 19711
302-737-3434