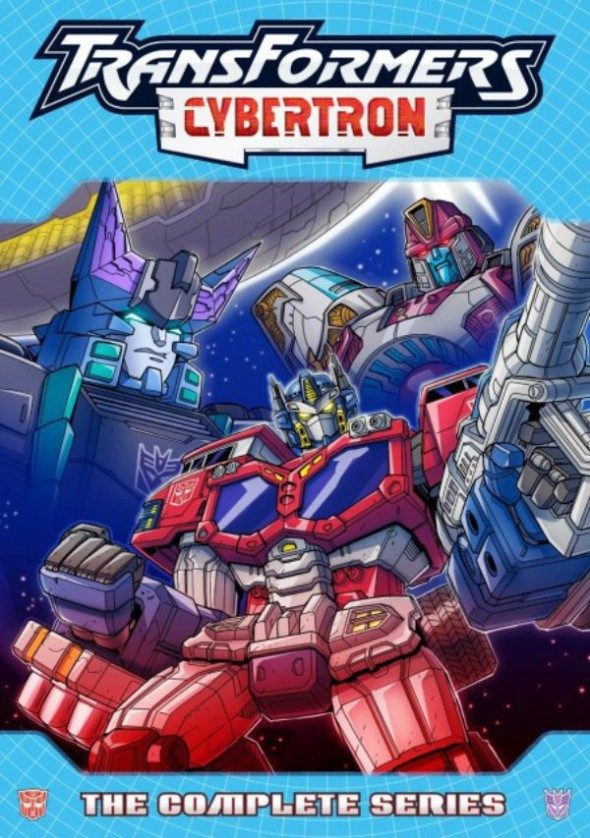 Transformers Cybertron: The Complete Series! Relive the Adventures of This Classic Animated TV Series in One Complete Set! Own This Collectible 7-DVD Set on August 5 2014 from Shout! Factory.
I have to admit, I was eagerly awaiting this series release from Shout! Factory. After reviewing the Armada and Energon series, the completionist in me was actually excited to see the arrival of this Transformers collection. Here is the scoop on Cybertron:
"This summer, relive some of the most astonishing classic action battles of ROBOTS IN DISGUISE and complete your home entertainment collection of the rare UNICRON Trilogy. In 2005, TRANSFORMERS fans were introduced to the animated series TRANSFORMERS CYBERTRON, the third installment of the rare UNICRON Trilogy–consisting of ARMADA, ENERGON and CYBERTRON. UNICRON has been defeated, but his destruction has created a black hole, which is threatening the AUTOBOTS' home world of CYBERTRON. It's up to OPTIMUS PRIME, his team of AUTOBOTS and their new human friends–Coby, Lori and Bud–to secure the four mystical Cyber Planet Keys, in order to destroy the black hole. Unfortunately, MEGATRON and the DECEPTICONS are always lurking. And if the Cyber Planet Keys fall into their hands, it could mean the end of life as we know it. The race is on!"
As I said of the Energon series, "None of the Transformers series have ever been perfect. It's all in what you choose to take away from the experience." That same philosophy applies when watching the Cybertron series. The CGI was on par with, if not slightly better than, its predecessor. I wish that they had developed the animation a little more, rather than reusing some of the same footage over and over for many of the transformation and fight sequences. But that is easily forgivable. Remember, He-Man was practically the same shots in every episode. If they can get away with it, so can the Transformers. But I digress. The English dubbing was greatly improved over previous efforts. I guess after the harsh criticisms that were received for the shortcomings of Armada and Energon, a little extra care was taken this go round. The noticeable efforts paid off.
As for the plot….meh. I mean, it's the Transformers. I wasn't wholly enthralled by the story lines of the previous two series, so why should this one be any different? It takes a few episodes for the story to really pick up. Then mid-series, Cybertron becomes somewhat repetitive with the racing (fans of the show will know what I'm talking about). Eventually, they get back on board with the original plot and the pace of the series really gains momentum. It's always fun to see fan favorites like Starscream, Galvatron and Wing Saber in action. And, who doesn't love it when Optimus Prime yells "Roll Out" to the Autobots?
All in all, Transformers Cybertron was exactly what you'd expect from a Transformers series. The show improved with each installment of the trilogy. Cybertron was a fun way to close out the Unicron epoch. Shout! Factory did a wonderful job putting these series together in a DVD collection any fan will enjoy. The Unicron series is a great way to introduce younger children to the wonderment that is the Transformers. All three installments have been reasonably priced and are an affordable way to expand your Transformers collection. Reviewing all three series has indeed been entertaining. Honestly, I would rather watch the Transformers Cybertron series over any of the Michael Bay films.
"On August 5, 2014, Shout! Factory, in collaboration with Hasbro Studios, will release TRANSFORMERS CYBERTRON: THE COMPLETE SERIES, featuring all action-packed episodes collected in one deluxe 7-DVD box set. Whether reliving the childhood memory or discovering this series for the first time, this is an essential home collection for every fan, collectors and entire family to complete their TRANSFORMERS home entertainment library. This complete series 7-DVD set is priced to own at $44.99 SRP."
About Hasbro Studios:
Hasbro Studios is the Los Angeles-based entertainment division of Hasbro, Inc. (NASDAQ:HAS). The studio is responsible for entertainment brand-driven storytelling for the company across television, film, commercial productions and short-form. It develops, produces and distributes TV shows based on Hasbro's world class brands, including TRANSFORMERS, MY LITTLE PONY, LITTLEST PET SHOP, and FAMILY GAME NIGHT. Many of these shows air on the Hub Network, a U.S. television network for kids and their families, that is a joint venture between Hasbro and Discovery Communications (NASDAQ: DISCA, DISCB, DISCK). Hasbro Studios shows can also be seen on networks in more than 180 territories globally. Since its formation in 2009, the studio has received seven Daytime Emmy wins and 16 nominations. On the film side, the studio is developing and producing a number of features based on Hasbro's brands, including TRANSFORMERS: AGE OF EXTINCTION (Paramount), G.I. Joe 3 (Paramount) and CANDY LAND (Sony). The studio team also oversees the production of commercials that feature Hasbro's brands as well as production of short-form content that can be seen on all of the major digital and social media platforms globally.
About Shout! Factory:
Shout! Factory, LLC is a diversified multi-platform entertainment company devoted to producing, uncovering, preserving and revitalizing the very best of pop culture. Founders Richard Foos, Bob Emmer and Garson Foos have spent their entire careers sharing their music, television and film favorites with discerning consumers the world over. Shout! Factory's DVD and Blue-Ray offerings serve up feature films, classic and contemporary TV series, animation, live music, and comedy specials in lavish packages crammed with extras. Shout's audio division boasts GRAMMY nominated "best of" compilations. In addition, Shout! Factory maintains a vast digital distribution network which delivers video and audio content to all the leading digital service providers in North America. Shout! Factory also owns and operates Timeless Media Group, Biograph Records, Majordomo Records, HighTone Records and Video Time Machine. These riches are the result of a creative acquisition mandate that has established the company as a hotbed of cultural preservation and commercial reinvention. Shout! Factory is based in Santa Monica, California.