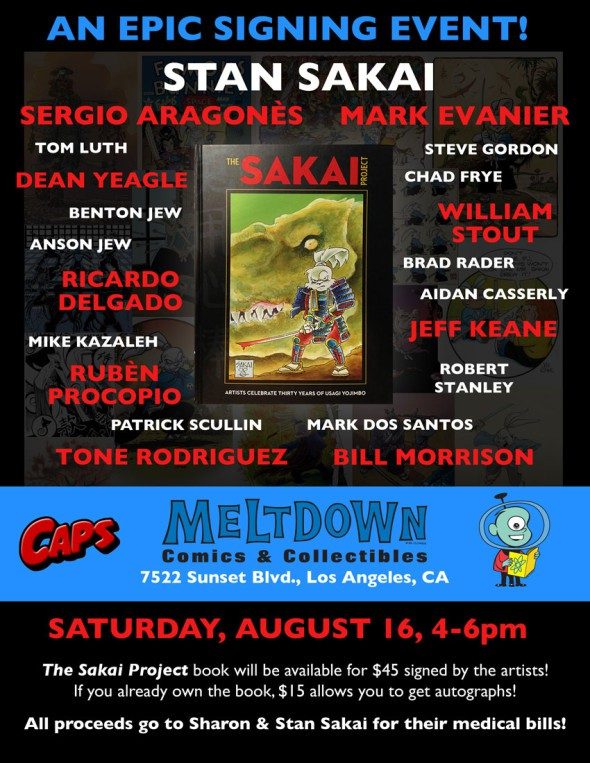 Stan Sakai, Sergio Aragonès, Mark Evanier, William Stout, Tone Rodriguez, Bill Morrison, and many more appear at Meltdown Comics on  Saturday, August 16, 2014 from 4:00 – 6:00 PM to sign THE SAKAI PROJECT!
Press Release:
On Saturday, August 16, twenty-two members of the cartooning community will descend upon Meltdown Comics on Sunset Boulevard to sign copies of Dark Horse Comics' recently released book "The Sakai Project" to help raise money for the medical bills of fellow cartoonist Stan Sakai, creator of Dark Horse's "Usagi Yojimbo" comic book, now in its thirtieth year.
Fundraising efforts were initially spearheaded by the Comic Art Professional Society (CAPS), an organization of professional comic book artists and writers of which Stan Sakai is a member. Organized by artist Tone Rodriguez, CAPS began collecting original art last December for an online auction to lend a helping hand to Sakai, whose wife Sharon has been suffering from an inoperable brain tumor. As art poured in from the cartooning community, many pieces were custom drawings of Stan's samurai rabbit creation Usagi Yojimbo.
Bill Morrison, a member of CAPS and an art director at Bongo Comics (publisher of "The Simpsons"), approached Sakai's publisher, Dark Horse, about collecting these wonderful images into a book to also benefit the Sakais. Dark Horse publisher Mike Richardson was enthusiastic about the idea, and offered to pay for the book's publication so that all sales could go to the Sakais. Bill Morrison proceeded to volunteer his time to edit the book in tandem with Dark Horse editor Randy Stradley which was designed voluntarily by noted book designer Serban Cristescu. The result is a beautiful 160-paged hardcover art book featuring interpretations of Usagi Yojimbo by some of the top cartoonists in comics today.
Between the online auction and the book, the cartooning community came together in a unique way to help one of their own. Now twenty-one artists local to Los Angeles will gather one more time to help their friend with a fundraising book signing event.
Attending the signing event will be "The Sakai Project" contributors Sergio Aragonès ("Groo the Wanderer", "MAD Magazine"), Mark Evanier ("Groo" writer), Tom Luth ("Groo" and "Usagi" colorist), William Stout (noted illustrator), Ricardo Delgado ("Age of Reptiles"), Jeff Keane ("Family Circus"), Rubèn Procopio ("Batman 66"), Dean Yeagle ("Playboy"), Bill Morrison (editor of "The Sakai Project"), Tone Rodriguez ("The Simpsons" comics), Steven E. Gordon, Anson Jew, Benton Jew, Aidan Casserly, Chad Frye, Brad Rader, Patrick Scullin, Robert Stanley, Mark Dos Santos and Mike Kazaleh all joining with Stan Sakai ("Usagi Yojimbo") himself.
Books will be sold for $45 each, or if fans already have the book, they will be charged a nominal $15 to have their books signed by the artists in attendance.
In addition to "The Sakai Project" book, there will be limited edition prints available exclusively at the event of four images from the book by artists attending the signing: Sergio Aragonès, Stan Sakai, William Stout, and Bill Morrison.
The event will take place on August 16 from 4-6pm at Meltdown Comics & Collectibles, 7522 Sunset Blvd., Los Angeles, CA 90046. Thanks to Meltdown, all proceeds go to Sharon & Stan Sakai to help with their medical bills.
Meltdown Comics
7522 Sunset Blvd, Los Angeles, CA 90046
(323) 851-7223