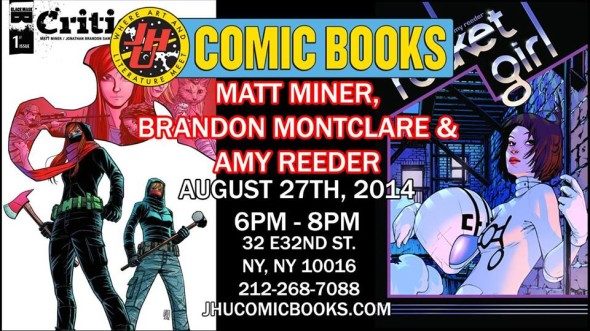 Celebrate the release of Matt Miner's Critical Hit #1 from Black Mask, continuing the story of Sarah and Jeanette from Liberator! The art has been pumped up and Matt's writing is as sharp as ever! Also, if you're a punk and metal fan, you won't want to miss all the homages that will make even the most hardened headbanger squeal with churlish delight!
Joining him are fan favorites, Brandon Montclare and Amy Reeder, for their newly released Rocket Girl trade paperback, "Times Squared!" If you haven't read it yet, this is a fantastic way to catch up! The fun, crazy, time-travel story and beautifully slick art is rife with humor, twists and 80s nostalgia!
Come on Wednesday August 27th from 6:00 – 8:00 PM to meet these great talents, have fun and get in on these stories early, before you're left playing catch-up on cold and lonely days!
*Purchase of Critical Hit #1 or Rocket Girl: Times Squared required to participate in signing.
JHU Comic Books MANHATTAN
32 East 32nd Street, New York, NY 10016
(212) 268-7088