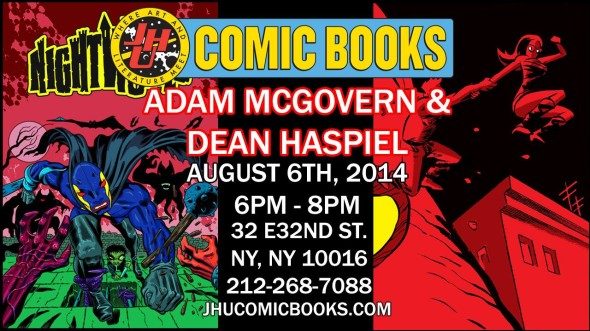 Press Release:
JHU Comic Books is proud to present a fantastic signing with two great talents, showcasing a great original debut in Nightworld #1 and a fantastic new release of Billy Dogma material in "Fear, My Dear."
Adam McGovern (Dr. Id, Extinction Seed) starts off his insane new series, Nightworld, with us, which "offers haunted romance, hellish humor, metaphysical fisticuffs and B-movie psychodrama at its best!" This comic is gorgeous, hilarious and absolute madness. You'll love it, we promise!
Dean Haspiel (The Fox, Fantastic Four, American Splendor) uses his near-mythological talents to bring some new Billy Dogma stories to us in the much-loved "Fear, My Dear." His "The Fox: Freak Magnet" has also just recently been released by Archie Comics and is a treat to behold!
If you love independent comics, especially weird, crazy and fun ones, you REALLY don't want to miss it!
*Purchase of Nightworld #1, "Fear, My Dear" or "The Fox: Freak Magnet" required to participate in signing.
JHU Comic Books MANHATTAN
32 East 32nd Street, New York, NY 10016
(212) 268-7088