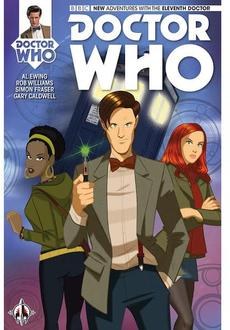 Rob Williams and Al Ewing sign at Forbidden Planet's Bristol Megastore on Saturday 26th July from 3:00 – 4:00 pm!
Press Release:
Celebrate all things Who at Forbidden Planet! Join Rob Williams and Al Ewing at our Bristol Megastore as they fold time and space to bring you our exclusive FORBIDDEN PLANET Doctor Who Variant Covers!
They will be signing the first issue of the 11th Doctor Comic on Saturday 26th July from 3 – 4pm!
And the 11th Doctor brings us a whole new story – an all-new ongoing series, with a time-twisting leap into the unknown!
Alice Obiefune has just lost her mother when the Doctor explodes into her life. But what does a grieving young woman have to do with the career of a 70s musician, an amnesiac alien time traveler, and a terrifying cosmic threat? In the wake of the second Big Bang, discover what the Doctor gets up to when Amy and Rory aren't around!
Plus, every issue includes a "Titans" strip and a brand-new humour strip!
Forbidden Planet Bristol Megastore
Units 4&5 Clifton Heights Bristol BS8 1EJ