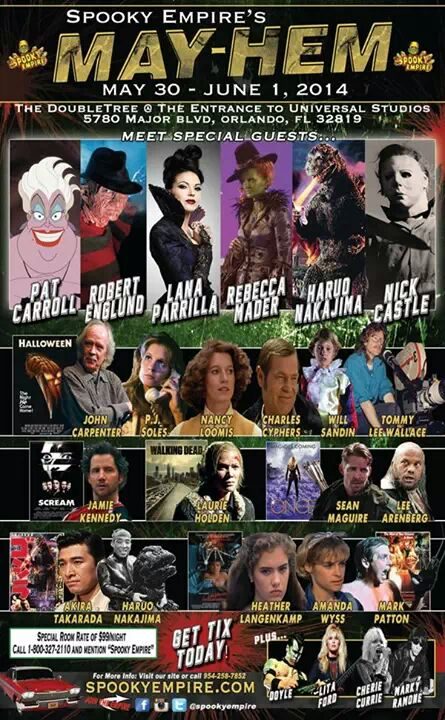 FAIRY TALES AND THE KING OF MONSTERS TOGETHER IN ORLANDO!
 ORLANDO, FL – Kick off the summer with one of the greatest fan events to come to Orlando!
Spooky Empire's May-Hem convention takes place May 30th-June 1st at The DoubleTree at Universal Studios 5780 Major Blvd, Orlando, FL 32819). A three day weekend with something for everyone!
The first of two Spooky Empire conventions in 2014 brings a fantastic guest list covering not just the horror genre but SciFi, Fantasy, Rock n Roll and more!
Celebrate two film anniversaries starting with actors from the original 1954 "Godzilla" film. Akira Takarada and Haruo Nakajima (the man behind the Godzilla mask) make a rare convention appearance together to commemorate the 60th Anniversary of the original film and of course the most recent hit the "Godzilla 2014" redo.
The second appearance would honor the 30th Anniversary of "A Nightmare on Elm Street". Meet original cast members Robert Englund "Freddy Krueger", Heather Langenkamp, Amanda Wyss and Ronee Blakley.
"Once Upon a Time" fans get a real treat when cast members make a rare first time appearance together. Meet Lana Parrilla "Regina" (her first convention appearance), Lee Arenberg "Grumpy", Rebecca Mader "The Wicked Witch", and Sean Maguire "Robin Hood". The cast will be available for autographs, photo ops and a Q&A!
To round off this guest list full of headliners is writer and director John Carpenter. John Carpenter's list of classic films include "Halloween", "They Live", "Escape From New York", "Christine" and countless more.
Spooky Empire always brings a little rock 'n' roll to the mix! This year they've added "Misfits" members Doyle and Dr. Chud, "The Ramones" own Marky Ramone, and even Ex-"Runaways" members Lita Ford and Cherie Currie.
Wrestling fanactics do not want to miss out on our Friday event "In the Pit with Piper" featuring the one and only "Rowdy" Roddy Piper and Jimmy "Superfly" Snuka! This will be and event to go down in history!
Plus tons more celebrity guests available for meet and greets and autographs all weekend including Disney's own Pat Carroll (Ursula) from "The Little Mermaid, Jamie Kennedy "Scream" and "Ghost Whisperer", Laurie Holden "The Walking Dead" and even a gathering of the original "Halloween" cast with Nick Castle, P.J. Soles, Charles Cyphers, Will Sandin, Nancy Loomis and Tommy Lee Wallace!
Spooky Empire is not just about the guests, they have some monstrous events lined up as always. Check out the schedule for events such as : Huge vendor room, live performances, panels and Q&As, Tattoo Festival with special guest artists, Charity Poker Tournament, Monster Museums, films, and for the first time a Dia De Los Muertos Opening Party which takes place starting at 12pm on Friday afternoon.
Closing out the weekend is Spooky Empire's annual costume contest on Sunday. This year's contest is sponsored by Orlando's "Legends: A Haunting at Old Town". $1,000 in cash prizes and more for winners!
 Get your discount advance tickets online now! Just $50 for a 3 day pass ($60 at the door). Daily passes available as well!
 Visit spookyempire.com for more information or call the Spooky Empire Hotline at 954-258-7852
Contact:
Pete Mongelli
Spooky Empire, Inc.
954-258-7852
http://www.spookyempire.com