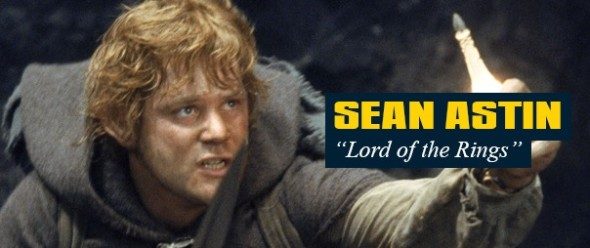 Press Release:
Boston Comic Con's new guest is a Goonie, a Hobbit, and a Ninja Turtle: SEAN ASTIN makes his first appearance at Boston Comic Con this year! An accomplished actor,  Sean made his film debut at 13 playing Mikey Walsh in the classic adventure movie The Goonies. Sean scored another career defining, triumphant success playing the title character in the inspirational and universally applauded college football biopic Rudy. But Sean probably best known in his role as Samwise Gamgee the stalwart Hobbit from Peter Jackson's epic Lord of the Rings film trilogy for which he received several awards.
Sean has appeared on television as Lynn McGill in the fifth season of 24, and currently voices Raphael in Nickelodeon's Teenage Mutant Ninja Turtles animated TV series. Sean is also slated to co-star in the much anticipated series The Strain for FX, based on Guillermo del Toro's trilogy of vampire novels.
Previously announced guests include Jason Momoa, Jewel Staite, Sam Witwer, Simon Bisley, Greg Capullo, Amanda Conner, Danielle Corsetto, Ivy Doomkitty, Adam Kubert, Carlos Pacheco, Jimmy Palmiotti, Eric Powell, Gail Simone, Stan Sakai, Jeff Smith, Scott Snyder, Skottie Young, and many more! For the full guest list plus artist alley, exhibitor, and film fest registration please check out the Boston Comic Con website!
Online ticket purchases are available at the link!
About Boston Comic Con:
The Boston Comic Con is a 100% independently run comic book show committed to bringing the biggest and best comic creators to New England. Run by fans for fans, Boston Comic Con is not affiliated with any other convention tour or corporate interests. Hosting over 120,000 square feet of vendors selling comic books, toys, posters, trading cards, and other pop culture memorabilia, this is a destination event for geeks of any stripe. This year's convention will be held Friday August 8th, Saturday August 9th and Sunday August 10th at the Seaport World Trade Center, 200 Seaport Blvd, Boston, MA 02210. For more information please go to our website at www.bostoncomiccon.com and follow us on Twitter (@BostonComicCon) and Facebook!