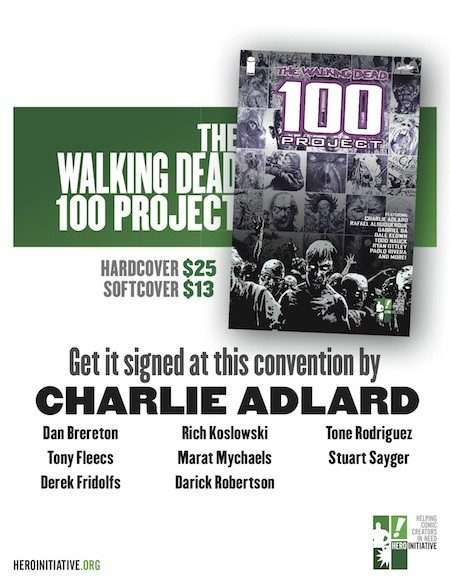 Press Release:
Hero Initiative, the non-profit organization that helps comic creators in medical and financial need, will be attending San Jose's BIG WOW! Comic-Fest on May 17-18 at the San Jose Convention Center, 150 West San Carlos Street.
Make sure you grab the amazing Walking Dead 100 book at out booth, #915-#917 and be sure to get it signed by the many contributors in attendance! Walking Dead artist Charlie Adlard will be at the con, as will eight other artists who participated in the project. Proceeds of your purchase will help someone in need!
And you can put your Walking Dead book in your NEW Hero tote bag! Hero's new totes make their debut at BIG WOW! and are available at a mere $5!
In addition, check out the ambassadors for Hero who will be raising money for our charity at their own booths: Arthur Adams, Brent Anderson, Dan Brereton, Joyce Chin, Mick Gray, Drew Johnson, Rich Koslowski, Michael Lark, John Livesay, Laura Martin, Terry Moore, Norm Rapmund, Darick Robertson, Greg Rucka, and David Williams will all have donation jars for Hero!