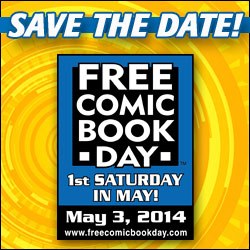 Press Release:
It's Free Comic Book Day at Harrison's Comics! We have lots of free comics to give away! Special Guests coming to each store!
Free Heroclixs (while they last)! 25 % off all Books and Trade paperbacks! 50% off all back issue comics!
Salem, MA: (252 Essex Street)
David Petersen, artist and creator of Mouse Guard comics and books. He will be signing from 11am to 5 pm. He also has a free comic book issue coming out for that day.
R2-D2 of Star Wars fame will be here from 10am till 12pm. And last but not least DEADPOOL will be here.
Woburn, MA: (134B  New Boston Street)
Katie Cook of My Little Pony will be signing from 2pm till 5 pm.
From Hound Comics, Peanizles web comic creator Don Mathias and Salvagers comic creator Bob Salley. They will be signing from 10 am till 5 pm.
Also some wonderful cosplayers will appear throughout the day.
Nashua, NH: (293 Daniel Webster Hwy)
Katie Cook of My Little Pony fame will be signing here from 10am till 1pm. Various other surprises are in the works.