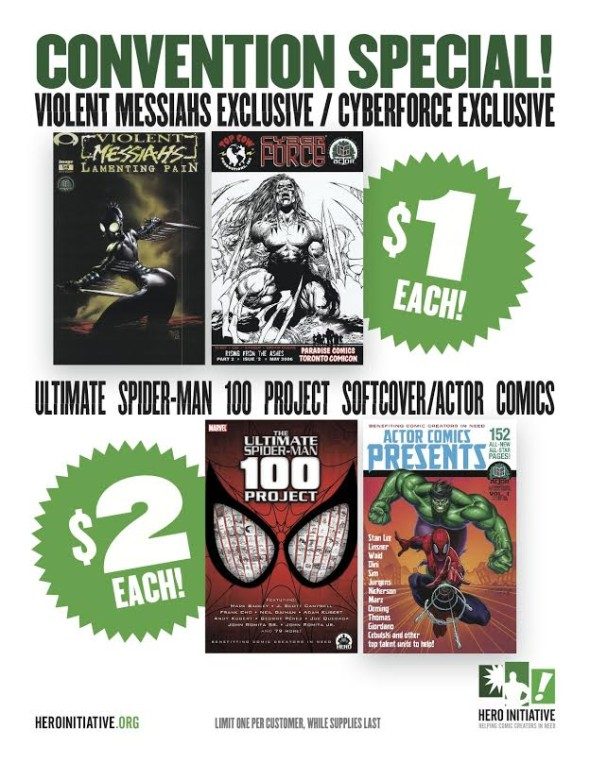 Press Release:
Hero Initiative Stampedes to Calgary Comic Expo!
LOS ANGELES, CA (April 9, 2014) Hero Initiative, the non-profit organization that aids comic creators in medical and financial need, travels to Calgary Comic Expo for the first time ever, April 24-27! (www.calgaryexpo.com).
Stop on by our creative ambassadors located all over the con floor who will be collecting donations for Hero: Reilly Brown, Brian Haberlin, Mark McKenna, Michael Oeming, Riley Rossmo, Greg Rucka, Fiona Staples, Arthur Suydam, and Jim Zub are all on the job. So do the right thing and DONATE!
And check out our con specials at our booth, Y-19 and Y-20! We're blowing out Violent Messiahs #1 and Cyberforce #2 for$1 each! Ultimate Spider-Man 100 Project and ACTOR Comics Presents are $2 each! What a deal!
See you there!
About The Hero Initiative
The Hero Initiative is the first-ever federally chartered not-for-profit corporation dedicated strictly to helping comic book creators in need. Hero creates a financial safety net for yesterday's creators who may need emergency medical aid, financial support for essentials of life, and an avenue back into paying work. It's a chance for all of us to give back something to the people who have given us so much enjoyment.
Since its inception, The Hero Initiative has had the good fortune to grant over $500,000 to the comic book veterans who have paved the way for those in the industry today. For more information, visit www.heroinitiative.org or call 626-676-6354.