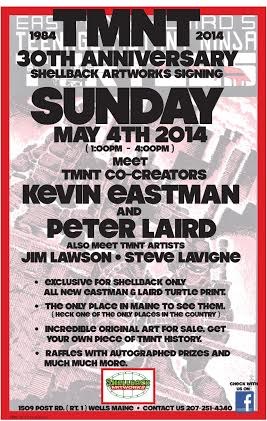 Peter Laird and Kevin Eastman, co-creators of the Teenage Mutant Ninja Turtles, reunite for the first time in years to celebrate the Turtles' 30th anniversary with an appearance at Shellback Artworks on Sunday May 4, 2014 from 1:00 till 4:00 pm! Joining them are fellow Mirage Studios alums Jim Lawson, Eric Talbot, and Steve Lavigne!
There will be an exclusive, Shellback-only, all new print penciled by Peter Laird, inked by Kevin Eastman, and colored by Steve Lavigne. Plus incredible original art for sale, raffles with autographed prizes, and much, much more!
This is the only place in Maine to meet them, and one of the only places in the country to host such a rare event. Come out and share in some TMNT history!
Shellback Artworks
1509 Post Road, Wells, ME 04090
(207) 251-4340