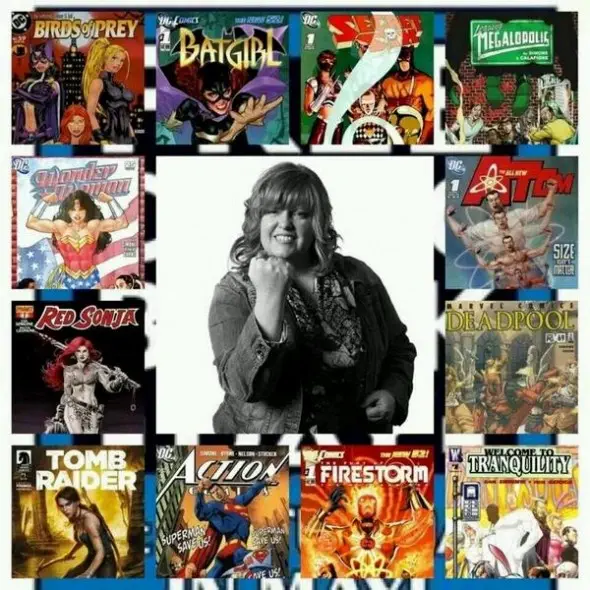 Special guest Gail Simone joins Marjorie Liu, Shelli Paroline, Braden Lamb, Blair Shedd, Sara Richard, Roger Andrews, and many more appear at Double Midnight Comics on Saturday May 3, 2014 for Free Comic Book Day!
Press Release:
How do we top 2013's Free Comic Book Day? BY DOUBLING IT! Our 2014 Free Comic Book Day will be DOUBLED, with our usual one in Manchester and one at our new location in Concord! We will be featuring special guests, events and of course, exclusive free comics at each, as well as special sales too! Additionally, we will have a number of local artists, fantastic cosplayers, contests and a wide variety of free comics!
Special Artist/Writer Guests include:
Gail Simone (Batgirl, Red Sonja, Birds of Prey)
Marjorie Liu (Astonishing X-Men, X-23)
Shelli Paroline (Adventure Time)
Braden Lamb (Adventure Time)
Blair Shedd (Doctor Who)
Sara Richard (My Little Pony)
Alex de Campi (My Little Pony, Grindhouse) – Appearing in Manchester from 5-7!
Roger Andrews (Super Hero Squad)
Ransom Getty (Guardians of the Globe)
Artists include:
Scott Hamilton
Dan Larson
Amanda Dufresne
Nicole Hansche
David Leblanc
Jerry Fleming
Don Higgins
Juli O'Malley
Kendra Lee Saunders
Jason Casey
Matt Bessette
Bexx Fine
Jeremy Mchugh
Janella Mele
Angela Costello
Dennis Burke
Clark Drew
Peter Vinton Jr
Ben Gibson
Michelle Pinard
NOTE: free sketches are at the discretion of the artist and not guaranteed.
Cosplay Guests include:
Nicole Marie Jean (cosplayer extraordinaire)
Bellechere (world renown cosplayer)
501st New England Garrison
Ghostbusters of New Hampshire
New England Brethren of Pirates
Special Guests:
Rhode Island Comic Con
Terror Con
Pop Culture Expo
Spectacular Batcycle (Concord)
Bumblebee 1977 Chevy Camaro from Transformers
BBQ? Of course! Our grill master and BBQ expert Jareb will be back, making some fantastic grub in Manchester!
We also want to have the biggest group of cosplayers we can amass, so we will have extra goodies to everyone that comes in costume, as well as the BIGGEST Free Comic Book Day costume contest in the US!
We will also be having a HUGE after party in Concord when all is said and done, with a few more surprises. What could we possibly have up our sleeves?
Double Midnight Comics
245 Maple St, Unit 11, Manchester, NH 03103