Thousands of colorfully dressed fans flocked to Kansas City, MO this past weekend to party and meet their heroes. And there were also comic convention-goers! While the fans of Iowa State and Baylor University were in town to cheer on their teams in the Big 12 tournament, many fans of comics, cosplay, and science fiction were at the convention center for Planet Comicon!
This was my first visit to this convention, even to the Midwest, but I still had an idea of how big the con would be. The promoters had a stellar line-up of comic creators including writers Scott Snyder (Batman), Jason Aaron (Amazing X-Men), Greg Rucka (Lazarus), Cullen Bunn (Wolverine), and Frank Tieri (Deadpool) and artists like Darwyn Cooke (New Frontier), Tim Sale (Captain America: White), Jill Thompson (Beasts of Burden), Dave Johnson (100 Bullets), Don Rosa (Uncle Scrooge), and many more.
One of the highlights of the show was meeting hip hop icon Darryl "DMC" McDaniel (1/3 of the groundbreaking rap group Run-DMC). He was in town promoting his latest venture, Darryl Makes Comics. A self-avowed comic nerd, DMC spoke at length during his signings and his panel about how he connected with comic books growing up, particularly Marvel titles as many were set in New York City. He even told a story about he and his brother selling off their beloved collection of comics at age 14 in order to purchase his first turntable set. His new line of comics will be treasury sized set in a universe in which DMC is only the first superhero to debut. With prominent industry creators such as Damion Scott, Ron Wimberley, Greg Pak, Dexter Vines, and more on-board, DMC assures fans that his comics will be created with integrity and a love of the medium.
Another big draw for Planet Comicon this year was a Star Trek: The Next Generation reunion. While the crowds were too big on Saturday and Sunday to catch all of their panels, I was able to sit in on Marina Sirtis (Counselor Troi) and Michael Dorn's (Lt. Worf) on Friday afternoon. Sirtis told the audience that the rest of the cast gets very nervous whenever she does a convention in the Midwest because she's very outspoken politically. Then she launched into a tirade against Obamacare detractors while Dorn tried to get her back onto the subject at hand. They fielded Q&A from the crowd and told many stories from behind the scenes of the show, which Sirtis described as being "like kindergarten at recess." One fan asked about the connection between TNG and the Disney animated series Gargoyles, in which Sirits voiced lead villain Demona and Dorn recurring character Coldstone. Dorn said that the producers were fans of TNG but still made everyone audition. Sirtis described Demona as being much closer to her actual personality than the demure Counselor Troi.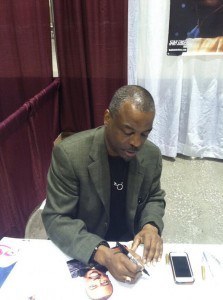 Growing up the only reason I even started watching TNG was because Levar Burton was the host of my favorite kids' show, Reading Rainbow. Having missed out on his panel, I decided to purchase an autograph. When I introduced and explained how much Reading Rainbow had meant to me, Burton replied by saying, "Colin, would you like a piece of gum?" holding up a pack of Extra. A fan ahead of me had given him a bag of goodies (candy, toys, hand sanitizer, etc.) and at first I demurred stuttering that I already had gum. "Are you sure?" he asked, "It's the classic bubblegum flavor." That's when a woman behind hissed, "What are you, stupid? Take the gum!" I realized that that this was a unique opportunity and thanked Burton for the pack. Naturally he signed the photo, "Colin, Enjoy the gum!"
All in all, this was a really fun convention. The organizers are to be applauded for getting a great list of guests and smoothly running a large con. I honestly have no qualms or criticisms to offer. Thanks to Ben & Jeni Defeo for showing me around the city (and then some) and my travelling partners Randy House and Christian Miller.