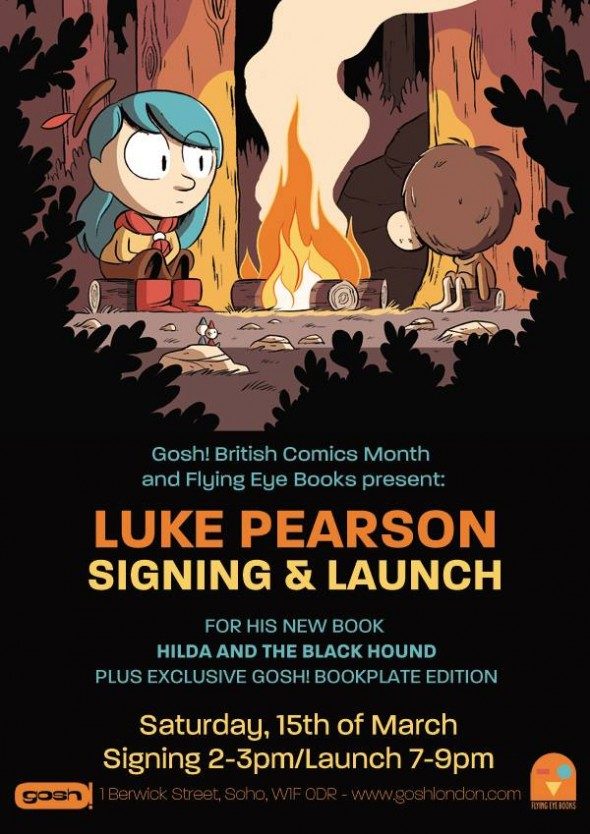 Luke Pearson signs at Gosh! Comics on Saturday, March 15, 2014 from 2:00 pm until 9:00 pm!
Press Release:
Out this March from Flying Eye Books (NoBrow's children's line), is the long-awaited fourth part of Eisner-nominated Luke Pearson's lovely Hilda stories. This time round, Hilda and her otherworldly friends find themselves dealing with alternate realities and a looming, mysterious dark spectre skulking through the streets of Trolberg. More info on the book can be found here…
There will be an all-ages signing for munchkin fans of the series in the afternoon, and a launch party for the mature fans to clink glasses and raise the roof (not literally, please, we like our roof), in the evening. Luke will also be doing a window painting for us throughout the day, because he's lovely like that.
The event is on Saturday, the 15th of March, with the all-ages signing running from 2pm to 3pm and the launch party running, as per usual, from 7pm to 9pm. From the 10th through to the 16th of March, customers will be able to get 25% off all NoBrow and Flying Eye books!
Gosh Comics
1 Berwick St, SoHo, London W1F0DR
United Kingdom