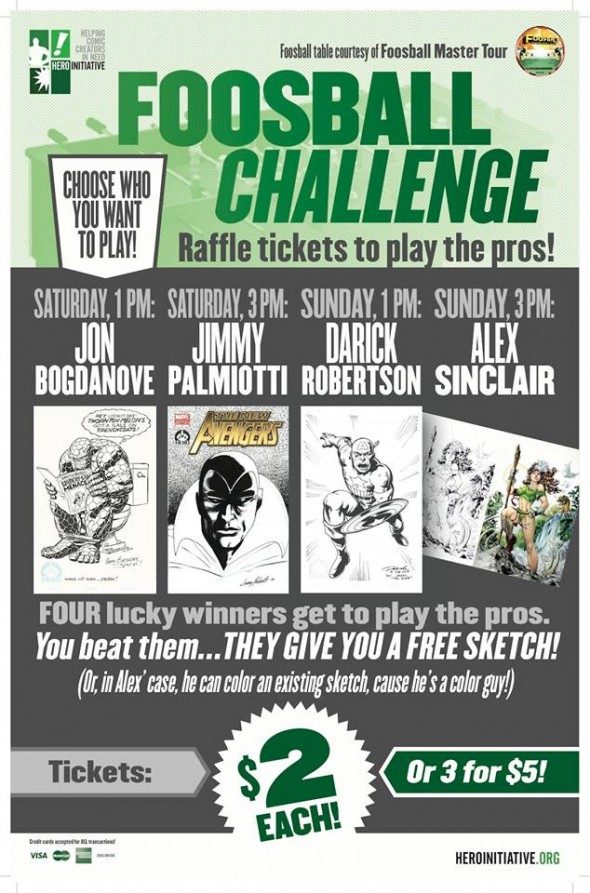 Press Release:
Hero Initiative, the non-profit organization that aids comic creators in need, will attend Long Beach Comic and Horror Con November 23rd and 24th at the Long Beach Convention Center in an entirely new way—with foosball!
That's right! Hero will have a foosball table at its booth, #406, all weekend. The table comes courtesy of Foosball Master Tour, and you can test your skills in special challenge matches against well-known artists Jon Bogdanove, Jimmy Palmiotti, Darick Robertson, and Alex Sinclair to raise money for Hero Initiative. Get practicing now!
The convention continues its dual traditions of Helping Hero and producing AMAZING limited edition prints with its They Live, Halloween, The Birds and The Hunger prints! Each print is limited to only 100 copies each, and available at $30 each at the Long Beach Con store in the main lobby. In addition, 30 copies each of They Live and Halloween will be available autographed by legendary director John Carpenter for $50 each at the Storm King Productions booth, #913 on the floor. All proceeds from They Live and Halloween benefit Hero, along with partial proceeds from The Birds and The Hunger!
And Hero is having a special $1 sale all weekend! You can pick up great product such as the Salimba graphic novel, Vision Machine graphic novel, and even Hero T-shirts at a mere $1 each! There's a limit of one per item per customer, and supplies are limited, so get to booth #406 FAST!
And make sure to visit the outstanding Long Beach Artists Alley, where creators are collecting money for Hero Initiative. Please visit Jon Bogdanove (booth #1009), Amanda Conner (#1300), Gene Ha (#1412), Jimmy Palmiotti (#1301), Whilce Portacio (#1200), Brian Pulido (#508), Norm Rapmund (#1901), Darick Robertson (#1709) and Alex Sinclair (#1410). Check them out, and kick in a buck when you ask them to sign your books. It's a win/win for everyone!