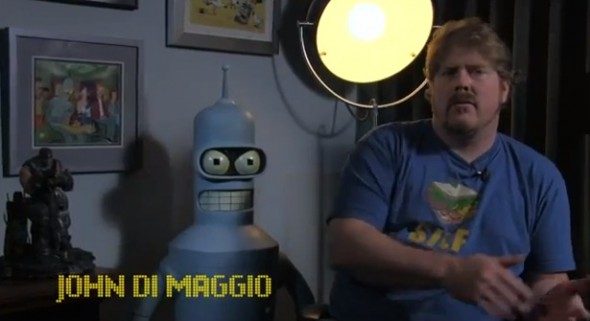 John DiMaggio screens his new voice acting documentary "I Know That Voice" at the National Press Club on Friday November 8, 2013 at 6:00 PM!
This is a ticketed event. Click here to jump to the ticket form.
The National Press Club will host the East Coast premiere of the voice acting documentary I Know That Voice on Friday, November 8, at 6:00 p.m. in the Conference Rooms. The film's executive producer, Annie Award-winning and Emmy-nominated voice actor John DiMaggio, will be on hand to introduce the film and answer questions after the screening, followed by a meet-and-greet and signing. DiMaggio is known for voices such as Bender in Futurama; Jake the Dog in Adventure Time; Marcus Fenix in Gears of War; Rico in The Penguins of Madagascar; Dr. Drakken in Kim Possible; and Schnitzel in Chowder.
I Know That Voice explores every aspect of the voice acting profession, and showcases some of the most talented, versatile, and hard-working members of the entertainment industry. It features interviews with more than 150 top voice actors, casting and voice directors, show creators, producers, voice teachers, and other animation industry luminaries. For a full list of the featured actors and creators, click here.
The documentary will be released on Video on Demand, iTunes, and DVD this December. To watch the trailer on YouTube, click here.
The screening is sponsored by The National Press Club's Young Members Committee, and is free for Club members and $10 for nonmembers. The signing session is limited to one item per person.
National Press Club
529 14th Street NW, Washington, DC 20045