IDW Hosts Locke & Key Art Competition
IDW Limited has launched an art competition on the website Infected By Art. The Grand Prize Winner will not only receive exclusive Locke & Key merchandise but also the opportunity to be a paid participant in an upcoming IDW Limited original art project!
Press Release:
Draw or paint your personal (or imagined!) fears into the bottle so you can conquer them once and for all!
Submission Period: October 17 – November 17, 2013
Fan Voting Period: November 12 – November 18, 2013
Fears… We've all got them to one degree or another. Your challenge is to create a work of art that shows off your real or imagined fears using the image below as a template to follow. There is no fee to enter this contest, and we're providing some great prizes as well, including the opportunity for the Grand Prize Winner to be a paid participant in an upcoming IDW Limited original art project!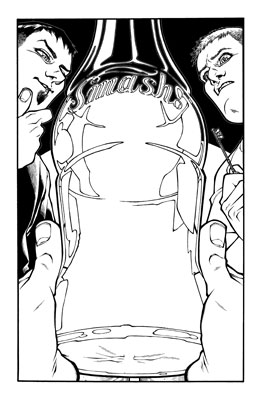 Once the November 17th deadline at midnight is hit, Locke & Key creators Joe Hill and Gabriel Rodriguez will each select one Runner Up and together they will also select the Grand Prize Winner. Fan voting will help select the 3rd Runner Up.
Remember, you have to use this image as the basis for what you create, but let your imaginations run wild! We allow each artist to submit up to 3 images towards the competition. Fan Voters will be allowed to vote for a maximum of 2 pieces of artwork they feel are most worthy. If you have any questions please contact Infected by Art.
The set up – as it appeared in LOCKE & KEY – is Kinsey (the female character) has removed aspects from her head she doesn't like, inside the bottle is the physical manifestation of her fear & sadness. Details on How To Enter.
THE IMAGE FILE YOU NEED TO WORK FROM
In order to submit your artwork to this contest, you must first save this image to your computer. To create a piece of traditional artwork you will need to transfer it to whatever surface you wish to work on (bluelined, etc), or use this file as the basis for of your digital artwork. Your entry must contain all elements from this image in order to qualify for entry.
ABOUT LOCKE & KEY
Acclaimed suspense novelist and New York Times best-selling author Joe Hill (NOS4A2, Horns, Heart-Shaped Box) creates an all-new story of dark fantasy and wonder: Locke & Key. Written by Hill and featuring astounding artwork from Gabriel Rodriguez, Locke & Key tells of Keyhouse, an unlikely New England mansion, with fantastic doors that transform all who dare to walk through them… and home to a hate-filled and relentless creature that will not rest until it forces open the most terrible door of them all… Visit the LOCKE & KEY website for more information about the series!
ORIGINAL IMAGE AS IT APPEARED IN THE COMIC