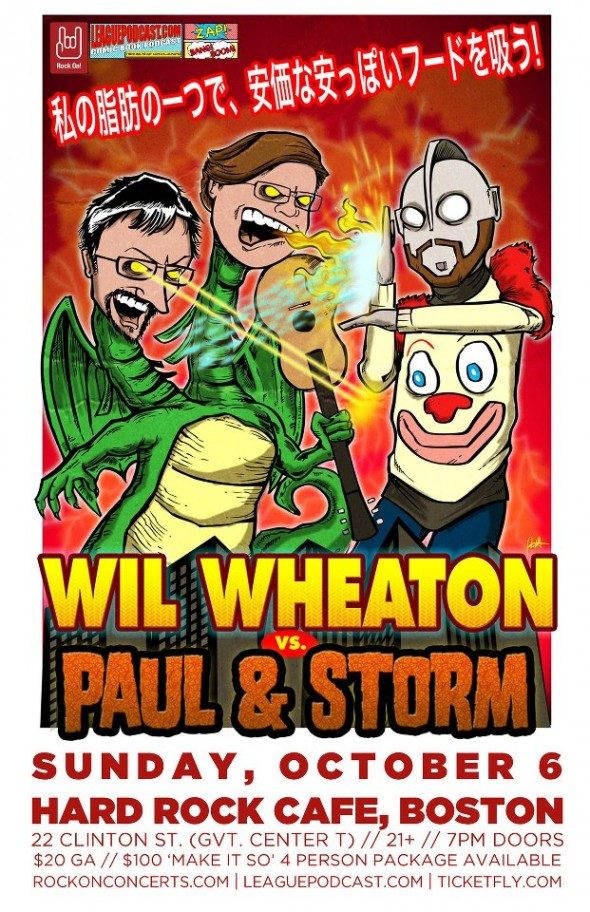 Wil Wheaton joins musical comedy duo Paul & Storm at the Hard Rock Cafe on Sunday October 6, 2013. Doors open at 7pm! Tickets at the link! Present by Rock On! Concerts and the League Podcast.
A worldwide audience may know him from recent roles as Evil Wil Wheaton on The Big Bang Theory, Doctor Isaac Parrish on EUReKA, or Fawkes on The Guild, but Wil Wheaton's successful acting career began in 1986 with acclaimed roles in Stand By Me and Toy Soldiers.
He continued to build his resume through his teen years as series regular 'Wesley Crusher' on Star Trek: The Next Generation and opposite Robin Williams in Disney's Flubber. But Wil is much more than just an actor; he's an author, blogger, podcaster, voice actor, widely-followed original Twitter user, and a champion of geek culture. Wil currently splits his time between acting and writing. He has recurred for several seasons as Doctor Isaac Parrish on SyFy's hit series EUReKA, as computer hacker Cha0s on TNT's Leverage, and as a "delightfully evil version" of himself on CBS's The Big Bang Theory.
After portraying Axis of Anarchy leader Fawkes in two seasons of Felicia Day's smash hit webseries "The Guild", she and Wil co-created the internet sensation Tabletop, which runs Day's Premium YouTube channel, Geek and Sundry. Wil hosts and executive produces the program, currently in its first season.
An avid and passionate tabletop and video gamer, Wil gave the keynote address to the 2007 Penny Arcade Expo, and delivered the inagural keynote address to PAX East in 2010. He has been featured on the long-running Wizards of the Coast Dungeons and Dragons podcast as the Eladrin Avenger Aeofel, and provides voices for numerous videogames, including Grand Theft Auto: San Andreas, Red Dead Redemption, Brütal Legend, Fallout: New Vegas, and DC Universe Online. His has voiced numerous animated characters on series such as Ben 10: Alien Force, Batman: The Brave and the Bold, Teen Titans, and Legion of Superheroes.
As an author, he's published several acclaimed books, including: Just A Geek, Dancing Barefoot, The Happiest Days of Our Lives, and Memories of the Future Volume 1, a humorous and nostalgic episode guide of the first half of the first season of Star Trek: The Next Generation. All of his books grew out of Wil's immensely popular, award-winning weblogs, which he created at WIL WHEATON dot NET and WIL WHEATON dot NET: in Exile. While most celebrities are happy to let publicists and social media professionals design and maintain their websites, Wil took a decidedly different turn when he started blogging in 2001. He designed, coded, and maintained WWdN entirely on his own, until he "blew up" his sites' database in 2005 and moved his blog to the TypePad service. In 2012, he returned to his blogging roots at Wil Wheaton dot Net, which is now powered by WordPress.
In the 2002 weblog awards (the bloggies) Wil won every category in which he was nominated, including "Weblog of the Year." In 2003, Forbes.com readers voted WWdN the "Best Celebrity Weblog." Wil's blog was chosen by C|Net for inclusion in their 100 most influential blogs, and is an "A" lister, according to Blogebrity.com. In 2007, Wil was nominated for a Lifetime Achievement Bloggie, alongside Internet powerhouses Slashdot and Fark. In the 2008 weblog awards, Wil was voted the "Best Celebrity Blogger," and in 2009 Forbes named him the 14th most influential web celebrity. This is all amusing to Wil, who doesn't think of himself as a celebrity, but is instead, "just this guy, you know?"
********************
Paul and Storm
Paul and Storm have been performing as a comedy music duo since 2004. Before that, they were one half of a cappella band Da Vinci's Notebook. In addition to touring as Paul and Storm, they're the evil geniuses (along with Wil Wheaton and Adam Savage) of the nerd-oriented variety show "w00tstock"; co-conspirators in "JoCo Cruise Crazy"; and they now have their own webseries, "LearningTown", which debuted on January 15, 2013 on Geek and Sundry, Felicia Day's Premium YouTube Channel.
In addition to their extensive activities on the internet, their music has been heard across the country on outlets including the Bob & Tom Show, the Dr. Demento Show, Comedy Central, NPR, and the Drew Carey Show.
Hard Rock Cafe Boston
22-24 Clinton Street, Boston, Massachusetts 02109