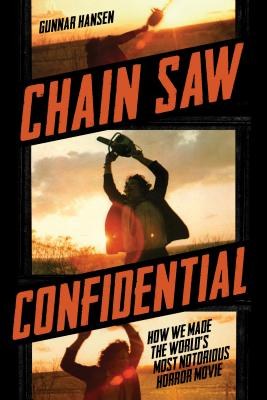 Gunnar Hansen, Leatherface from Texas Chain Saw Massacre, signs his memoir at Book People on Sunday, September 29 at 7PM!
Press Release:
Join us for a horrifyingly fun evening with actor and author Gunnar Hansen! Yes, that's right, the man who brought one of the most terrifying characters to film ever, Leatherface, will be here in our store!
Critically-acclaimed author Gunnar Hansen tells the real story of the making The Texas Chain Saw Massacre, its release, and reception, offering unknown behind-the-scenes details, a harrowingly entertaining account of the adventures of low-budget filmmaking, illuminating insights on the film's enduring and influential place in the horror genre and our culture, and a thoughtful meditation on why we love to be scared in the first place.
GUNNAR HANSEN is the author of several books of history, travel, and poetry. He lives on the coast of Maine.
In order to have anything signed at a BookPeople event, a copy of the event book must be purchased from BookPeople. If you purchase your book from BookPeople in advance of the event, please save your receipt and present it at the event.
Thank you for supporting Gunnar Hansen and your local independent bookstore!
Book People
603 N. Lamar, Austin TX 78703