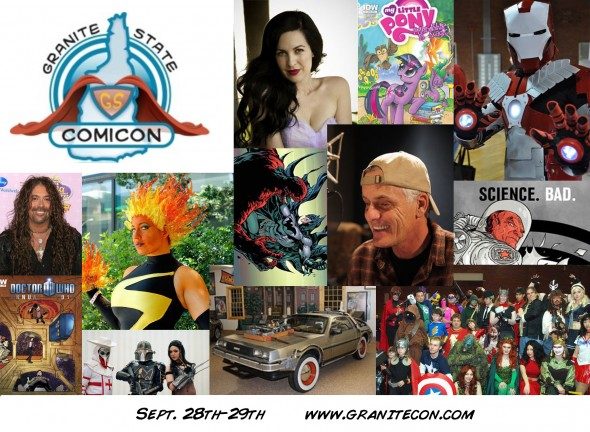 Press Release:
GraniteCon hosts an event unlike any other on the evening of Saturday September 28th at 7:00 pm! We'll be assembling our voice acting guests Grey DeLisle, Quinton Flynn, Rob Paulsen, Jess Harnell, Jim Cummings, and Richard Horvitz to read selections from Marvel's The Avengers in their character voices! Yakko & Wakko Warner as Thor & Loki? Winnie the Pooh as Tony Stark? You never know what's going to happen! Please be advised this is a ticketed event! Tickets can be purchased at the door. VIP passes include entry into the script read!
PLUS the voice actors' panel schedule:
20 Years of Animaniacs: Come celebrate 20 years of the hit show
"Animaniacs" with members of the cast itself. Join Rob Paulsen (Yakko, Pinky and more), Jess Harnell (Wakko) and Jim Cummings (Narrator and more) as they talk the impact of Animaniacs all these years later! Who knows? Maybe you'll also hear a song or two! Ballroom A at 11:00 am Saturday.
Finding the Right Voice: Join Richard Horvitz (Invader Zim), Grey DeLisle (Scooby Doo) and Quinton Flynn (Final Fantasy VII) as they discuss the characters they've portrayed, how they got into voice acting and more! Ballroom B-D at 2:00 pm Saturday.
Saturday Night Voice Actor Script to "The Avengers": Join our cast of voice actors as they read the script to "The Avengers" in the voices of characters they have brought to life in game, TV and movies! Could we see Yakko and Wakko as Thor and Loki? How about Tigger as The Hulk? Or maybe even Invader Zim as Nick Fury! Guaranteed to make you laugh and be a once in a lifetime event! This is a ticketed event. Ballroom A-D at 7:00 pm Saturday.
Voicing in Video Games: Join Quinton Flynn (Axel on Kingdom Hearts, Raiden on Metal Gear), Rob Paulsen (Gray Fox on Metal Gear) and Jess Harnell (Crash Bandicoot, Spyro the Dragon) as they discuss what it takes to voice in the gaming industry! Ballroom A at 11:00am Sunday.
Characters You Grew Up With, Past and Present: Join Jim Cummings (Darkwing Duck, Winnie the Pooh), Grey Delisle (Daphne on Scooby Doo, Azula on Avatar) and Richard Horvitz (Invader Zim, Alpha 5 on Power Rangers) as they talk about the various roles they portrayed for some of your favorite characters you grew up with! Ballroom B-D at 3:00pm Sunday.
Autograph Cost: First FAN provided item (DVDs, posters, comics, etc) they will sign FOR FREE! Each additional autograph, as well as photos, phone calls, video and voice recording will be $20!
Autograph Schedule:
Saturday:
10:00-11:00 – Quinton Flynn, Grey DeLisle, Richard Horvitz, Jim Cummings, Rob Paulsen, Jess Harnell
11:00-11:30 – Grey DeLisle, Richard Horvitz, Quinton Flynn
12:00-1:30 – Jim Cummings, Rob Paulsen, Jess Harnell
3:00-4:30 – Quinton Flynn, Grey DeLisle, Richard Horvitz, Jim Cummings, Rob Paulsen, Jess Harnell
Sunday:
10:00-11:00 – Quinton Flynn, Grey DeLisle, Richard Horvitz, Jim Cummings, Rob Paulsen, Jess Harnell
11:00-11:30 – Grey DeLisle, Richard Horvitz, Jim Cummings
12:00-1:30 Quinton Flynn, Rob Paulsen, Jess Harnell
1:30-3:00 – Jim Cummings, Grey DeLisle, Richard Horvitz
3:30-5:00 – Rob Paulsen, Jess Harnell, Quinton Flynn
4:00-5:00 – Jim Cummings, Grey DeLisle, Richard Horvitz
More information at the website: granitecon.com
ABOUT THE GUESTS:
Grey DeLisle
Grey DeLisle is a Grammy and Emmy Award winning and Annie nominated veteran voice actress who got her start doing the role of Reptar on Rugrats in 1994. Since then she has starred in hundreds of popular cartoons including The Fairly Odd Parents (Vicky), Avatar: The Last Airbender (Azula), Clone Wars (Asajj Ventress / Amidala), Grim Adventures of Billy and Mandy (Mandy), Danny Phantom (Sam), Foster's Home for Imaginary Friends (Frankie), Batman (Black Canary), Green Lantern (Aya), Wow Wow Wubbzy (Wubbzy), Clifford the Big Red Dog (Emily Elizabeth), and most notably the voice of "Daphne" on Scooby-Doo since 1997.
Gamers may recognize her voice from such titles as Doom, Mass Effect, Star Wars Old Republic, and Monkey Island. She also played "Nova" in Starcraft, the "Female Wizard" in Diablo 3, and "Vicky Vale"/"Catwoman" in this year's hugely popular Arkham City.
Quinton Flynn
Quinton's voice has been burning up the voice over industry since he first arrived in Los Angeles from his native Cleveland, Ohio. He is an A-list voice actor, having played such famous animated characters as: Jonny Quest, Speed Racer, The Human Torch, Elmer Fudd, Timon & Snowbell, just to name a few. His animated television appearances include: Robot Chicken, Avatar: The Last Airbender, Animaniacs, The Grim Adventures of Billy & Mandy, My Life as a Teenage Robot, Scooby-Doo! Mystery Incorporated, The Avengers and many more.
His best known roles in Video Game franchises have been his work providing the English voices of Raiden (Metal Gear Series), Axel (Kingdom Hearts Series), Kolyat Krios (Mass Effect), Henry (No More Heroes), Arlon & Rexus Ragespear (Guild Wars 2) and Reno in (Final Fantasy VII: Advent Children) the motion picture.
And that's just the tip of the iceberg in the Video Game world in which Quinton's also portrayed: SPIDERMAN, VENOM, BANSHEE, ABYSS, MERRY, GOLLUM, CROIX & ORPHEN.
If you're hip to the Anime scene you'll know him as: Kon in Bleach, Iruka-sensei and Deidara in Naruto, Marcus Damon in Digimon Data Squad, Carl/Phantom in Blood+, Shingo Shouji in Initial D, Dr. Riddles & Victoreem in Zach Bell to name a few.
He is well known in the industry for his skills as an impressionist and improvisationalist, having played the role of Paul McCartney and tested for NBC's Saturday Night Live and Comedy Network's The Daily Show. Quinton is always happy to do the animated and anime characters he is known for when he performs "Live" and rolls out his favorite impressions and yours!
Rob Paulsen
The goal of bringing absolute believability to a fictional character, live-action or animated, is what every actor strives for. Those committed to their craft that combine experience, passion and skill are likely to succeed. Those gifted with exceptional talent who focus on maximizing their potential by finding their own niche, quickly break apart from the pack. After years of honing their craft and consistently delivering memorable performances in which the character impacts an indelible image on the viewer, the public and the industry take notice, singling out the best.
"I'm getting paid to do what got me in trouble in the 7th grade," jests Rob Paulsen, who is one of the most popular voices in animation and won a Daytime Emmy in 1999 as "Outstanding Performer in an Animated Program" for Pinky and the Brain (WB). Though nominated twice previously, the victory was especially sweet due to the most formidable competition ever – fellow nominees Louis Anderson, Ernest Borgnine, Dom DeLuise, and Jeffrey Tambor. In addition to his Emmy, Rob won back-to-back Annie Awards in 1997 and 1998. "I absolutely love what I do and thank my lucky stars for twenty five years of full time employment in this business," he admits. Interestingly, in those twenty five years, Rob now has the unique opportunity to have gone full circle with the Teenage Mutant Ninja Turtles animated series; having voiced Raphael in the original show, he is now voicing Donatello in Nickelodeon's latest version of TMNT.
Originally from Detroit, Michigan, Rob "loved cartoons like most kids " and aspired to be a professional hockey player. "Fortunately, I learned pretty quickly that I had neither the talent, temperament nor dental insurance to pursue a career as a pro hockey player". Ironically, acting was something to "fall back on" and Rob has voiced beloved characters in several iconic animated series: Yakko Warner in Animaniacs and Carl Wheezer in Jimmy Neutron, Boy Genius, but may be best known to animation fans the world over as the voice of the boisterous and energetic laboratory mouse Pinky in two hit series Steven Spielberg Presents Pinky and The Brain and Pinky, Elmyra, and The Brain for Warner Brothers.
"It's a treat to portray a complex character," Rob explains about Pinky, a gangling mouse with funny teeth, a head filled with clouds and an inane imagination that is punctuated with a staccato laugh. "Besides… where else could I find a job where emotional outbursts and odd exclamations like 'Egad!', 'Narf!', 'Poit!', 'Splonk!', and 'Zort!' are allowed?" With over 2,000 half-hours of animation to his credit, Rob's versatility shines in his starring roles as the voices of Yakko, Dr. Scratch'N'Sniff and Pinky in the Peabody and the two-time Emmy award-winning series, Steven Spielberg Presents Animaniacs also for Warner Brothers. Currently, he can be heard as Peck in Back at the Barnyard, Birdbrain in T.U.F.F. Puppy, Jack Fenton in Danny Phantom and various characters, including Mark Chang in Fairly Odd Parents, all on Nickelodeon, as well as a number of Disney projects including The Little Mermaid III; Ariel's Beginning, Jacques and the Grand Duke in Cinderella and the role of Bobble in the Tinkerbell DVD series. For young fans of Play House Disney, Rob provides the voices of Al in Can you teach my Alligator Manners? and Ze Fronk in Tasty Time with Ze Fronk and Toodles in Mickey Mouse Clubhouse.
Paulsen's extensive credits include on-camera roles in numerous motion pictures including Body Double, Stewardess School, Eyes of Fire, The Perfect Match, and Warlock. His television acting credits include guest starring roles on MacGyver and St. Elsewhere. Additionally, he is one of the most sought-after voice actors in the commercial arena, performing in over 1000 of them including the voice of Mr. Opportunity on behalf of Honda automobiles from 2004 thru 2010. Rob is also the host of a successful podcast, Talkin' Toons, available at www.robpaulsenlive.com and iTunes.
Realizing how fortunate he is and passionate about giving back, Rob supports various charitable organizations, particularly Operation Smile, The Wounded Warriors Project and cancer and Muscular Dystrophy research.
A certified "gearhead", Rob is also passionate about sports cars and motorcycles in addition to being an avid golfer. He also still laces up the ole skates every now and then to scratch that hockey itch. Rob spends the majority of his free time with his wife, Parrish, son Ash and two Yorkshire terriers, Pooshie and Tala.
Jess Harnell
Peabody Award Winner and Emmy Award Nominee Jess Harnell has been named by Variety Magazine as one of the top ten voice actors in the world. With literally hundreds of roles in feature films such as all three "Transformers" films, all three "Toy Story" films and "Up", animated series from "Steven Spielberg's Animaniacs" to "Spongebob Squarepants" to "The Simpsons" and The Cleveland Show, thousands of promos and commercials and even announcing "America's Funniest Home Videos" for the last fifteen years, Jess has done it all. His celebrity impersonations have led to him being featured on Entertainment Tonight no less than four times as the top voice match in the business. With a rock star look and huge vocal range to match, Jess had a stint singing lead with mega band Journey and now fronts the world's first live metal/pop mash up band "Rock Sugar", sharing stages with bands from Aerosmith to AC/DC to Kiss and logging millions of hits on youtube. And with seven new animated series currently in production and a worldwide summer tour with Rock Sugar, for Jess Harnell the best is yet to come.
Jim Cummings
"Tell the kid he's got it," said the legendary Mel Blanc with a smile, after listening to a young man's first demo tape of cartoon character voices. The year was 1984, "the kid," was Jim Cummings. Since then, the kid has gone on to give life and voice to some of America's most beloved animal Characters, even a few of the late Mel Blanc's, and he was even nominated for an Emmy Award for his work as the lovable Tigger on Disney Channel's "My Friends Tigger and Pooh," in which he also voices everyone's favorite bear, Winnie the Pooh.
Born and raised in Youngstown, Ohio, Cummings spent Saturday mornings riveted to the TV screen as he mimicked the characters in his favorite cartoons, all the while dreaming that one day he would voice them himself. At age 19, he moved to New Orleans, where he performed as a drummer, a singer, a deck hand on riverboats, and even designed and created Mardi Gras floats, all the while absorbing the rich characters and accents that would someday find expression in animation.
Years later, Cummings relocated to Southern California and managed a video store as he pursued his childhood dream. He gave his first demo to a customer who was also a movie producer, and the rest, as they say, is history. In 1984, Cummings landed his first role as Lionel the lion, in Disney Channel's "Dumbo Circus." During his illustrious career, he has worked extensively for the Walt Disney Studios voicing classic characters such as Winnie the Pooh, Tigger, King Louis, Kaa the Snake, Pete (formerly peg legged Pete), and more. His many other credits include Darkwing Duck, Bonkers, Fat Cat, and Monterey Jack on "Chip 'n Dale: Rescue Rangers," Don Kamage on "Tailspin," and too many others to mention here.
Cummings has done scores of voices for Warner Bros, as well, including Taz the Tazmanian Devil himself, Steven Spielberg's "Animaniacs," "Tiny Toon Adventures," "Batman," "Pinky and the Brain," "Tazmania," "Duck Dodgers," and more. Other credits include "King of the Hill," "Bump in the Night," "Adventures of Jimmy Neutron: Boy Genius," "The Replacments," "The Addams Family," "Teenage Mutant Ninja Turtles," "Star Wars Clone Wars," "The Simpsons," "Barnyard," and "Catdog."
Not Limited to the small screen, Cummings has acted in several blockbuster feature films for Dreamworks including "Shrek," "Antz," "Kung Fu Panda's Furious 5," "Hook," "The Bee Movie," "Balto," and more. His credits read like a top-list of animated and live-action films. Credits include "Who framed Roger Rabbit," "The Little Mermaid," 'Aladdin," "Tarzan," "Pocahontas," "The Lion King," "Babe: Pig in the City," "The Hunchback of Notre Dame," "Brother Bear 2," "The Princess and The Frog" to name a few.
Cummings' uncanny ability to sing in character and voice match for stars who are, in his words, "great actors, just not great singers," has led to many platinum and gold records for soundtracks like "Anastasia," "The Lion King," "Fox and the Hound," "Pocahontas," "Hercules," and more. He was also AC, the lead singer of the famed California Raisins.
As of late, Jim is enjoying being the only American performer in the primary cast of "Gnomeo and Juliet," where he plays the amorous garden flamingo, Featherstone. He is excited for the release on July 15th of the sequel to the animated Disney Classic, "Winnie the Pooh" in which he plays both Winnie the Pooh and Tigger, too! He will also be playing an evil African Warlord, Budzo, in the upcoming feature film, "Zambezia," which is being released later this year.
Cummings' work in voice over includes hundreds of television and radio commercials, movie trailers, promos, and videogames. "Pretty much anything involving microphones, music, noise in general, and padded walls," jokes the affable actor, and "remember, only you can prevent forest fires," so says Smokey the Bear, aka Jim Cummings. No matter how busy Cummings, schedule may be, it all stops when Famous Fone Friends of Make a Wish Foundation call on behalf of a very ill child and distraught family in need of a phone call from their favorite cartoon character. "Just bringing a respite, however brief, and perhaps a smile and giggle or two, means so much to the child and their family. I consider it a true blessing to be able to do that."
Cummings is a proud father of four and resides somewhere in California with his beautiful two younger daughters Grace and Lulu Rose… and their critters.
Richard Horvitz
Fans of animation will recognize Richard Horvitz as the voice of many iconic characters, including INVADER ZIM, Billy from THE GRIM ADVENTURES OF BILLY AND MANDY, Daggett from THE ANGRY BEAVERS and Alpha 5 from the original MIGHTY MORPHIN POWER RANGERS. In addition to Richard's animation work, gamers will recognize him from his many video game roles in such classics as PSYCHONAUTS (RAZ), RATCHET AND CLANK series (Zoni, Pollyx, Zurgo) DESTROY ALL HUMANS (Orthopox) and SKYLANDERS (Kaos) to name a few. Richard began his acting career on camera and many may recall his role as Alan Eakian in Paramount Pictures 1980's cult classic SUMMER SCHOOL. www.richardhorvitz.com