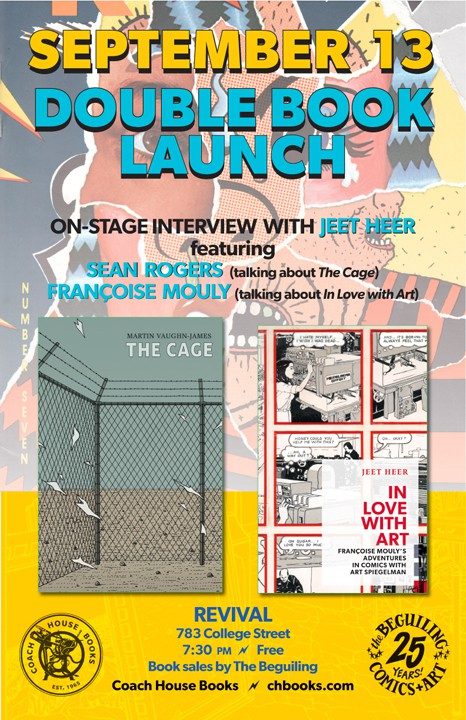 Françoise Mouly and Sean Rogers appear for an on-stage interview moderated by Jeet Heer at Revival on Friday, September 13, 2013 at 7:30 pm.
Press Release:
Do you feel the comics you read just aren't smart enough? Tired of people in tights and zombie apocalypses? Do we have the books for you! On Friday, September 13, Coach House Books and The Beguiling invite you to one of the most most rarefied of comics events to hit Toronto.
This fall, Coach House Books launches two new books: In Love with Art and The Cage. Jeet Heer's book In Love with Art: Françoise Mouly's Adventures in Comics with Art Spiegelman looks at the woman who's gone (until now) unappreciated as an architect of the modern comics revolution. Françoise Mouly, co-editor of RAW, art director of The New Yorker and wife of Art Spiegelman has been quietly changing comics art since the 1980s, and Heer's new book looks at her triumphs and long relationship with the creator ofMaus and In the Shadow of No Towers. The Cage by the late Martin Vaughn-James is a reprint of a lost cult classic of Canadian graphic novels. First published in 1975, the enigmatic comic returns to print after decades, with a new introduction (and appreciation) bySeth.
On September 13, author Jeet Heer will conduct an on-stage conversation with comic book force of nature Françoise Mouly about her decades-long relationship with Art Spiegelman, their work with RAW and Mouly's overhaul of The New Yorker and creation of TOON Books. Heer will also speak with comics' writer Sean Rogers (The Walrus, Globe and Mail) about the legacy of The Cage. And this will all be followed by a discussion of the changing face of comics as a more intellectual undertaking. Signings by Heer and Mouly will follow the on-stage discussion.
Revival
783 College St, Toronto, ON M6G, Canada