Event Details: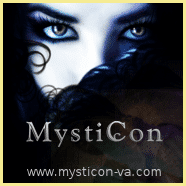 Convention Name

MystiCon 2014

Convention Website Address
http://mysticon-va.com
This convention will take place:
Start Date (Format mm/dd/yyyy)

02/21/2014

End Date (Format mm/dd/yyyy)

02/23/2014

About This Convention

MystiCon is back for a fourth geek-tastic year at the Holiday Inn Tanglewood in Roanoke, VA! The dates are February 21-23, 2014 and we have a great line-up for fans of all kinds. Our 2014 Media Guest of Honor is none other than John de Lancie, "Q" from Star Trek: TNG! Our Writer Guest of Honor is "Pern" book series author Todd McCaffrey. The rest of the 2014 Guest of Honor line-up is no less spectacular: Art GOH is Glyph Comics Award Winner John Jennings, Special Author Guest A.J. Hartley has penned the successful "Darwen Arkwright" book series for young adults, Gaming GOH is the award winning Kenneth Hite (Star Trek RPG and Gurps Infinite Worlds), and our Music Guest of Honor is Metropolis Records artists Bella Morte! The whole affair will be Emceed by the amazing and amusing Rich Sigfrit and the 2014 Fan Guest of Honor is RavenCon Vice Chairman John J ones! MystiCon 2014 will feature media personalities, writers, author signings and discussions, independent film festival, vendors, masquerade contest, LARPing, gaming, children's programming, fan groups, and much much more! Adult admission rates are $35 before 02/19/2014 and $45 at the door. Special discounts for fan groups, children, students and military with valid ID. Beat the winter blahs and join the fun at MystiCon 2014!

Venue Name and Address
Holiday Inn Tanglewood
4468 Starkey Road
Roanoke, Virginia 24018
United States
Map It
Number of Dealer/Exhibitor Tables

44

Projected Attendance

1300

Please select the Category that best describes the convention

Science Fiction and Fantasy

Additional Categories

Comic Books
Gaming
Horror
Collectibles

Guests

John de Lancie, Todd McCaffrey, John Jennings, A.J. Hartley, Kenneth Hite, Bella Morte, Rich Sigfrit, John Jones.