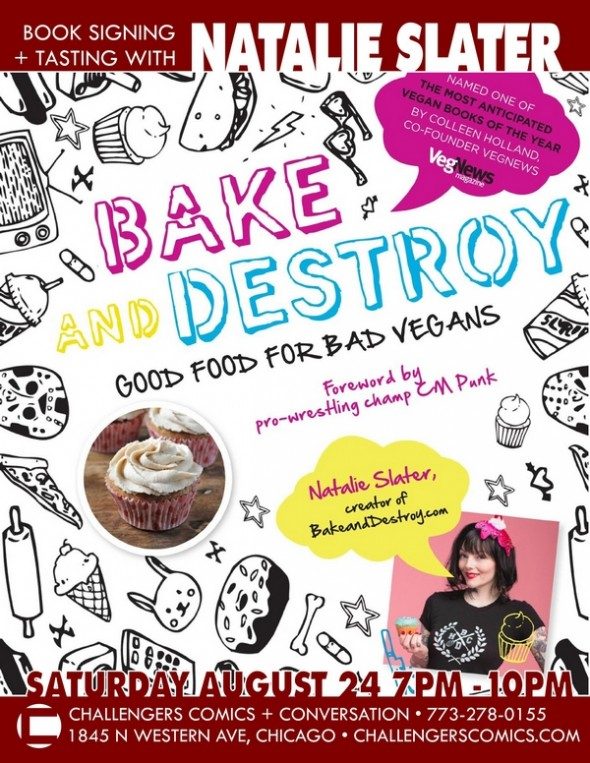 Natalie Slater appears at Challengers Comics on Saturday August 24th from 7-10pm for a book signing and tasting.
Press Release:
BAKE AND DESTROY: Good Food for Bad Vegans. Challengers is proud to be host for NATALIE SLATER's BAKE AND DESTROY RELEASE PARTY! Not only will NATALIE be on-hand to sign your book, but a host of fans will be making some of her recipes, so come hungry! This will be a party like none other we've thrown.
Natalie has been described as "Martha Stewart meets Iron Maiden," taking vegan cooking to places it has never been before. Influenced by slasher films, pro-wrestling, punk rock and heavy metal, her quirky-yet-delicious comfort foods are a refreshing take on vegan eating with award-winning flavors. Along the way, her off-color humor, irreverent rants and density of pop-culture references will make you laugh out loud.
Inside this high-energy cookbook you'll find recipes for Bike Messenger Brownies—inspired by the espresso-infused chai latte these speed demons use to fuel up; and Crouching Cornbread, Hidden Broccoli—Natalie's sneaky way of getting her son to eat vegetables. Other creations include the Grilled Mac 'n' Cheez Sandwich, Taco Lasagna, Chick-O Cheesecake, and her Shepherd's Pie Pizza, about which she writes, "Some people were born to rock n' roll. Others were born to ride. I was born to put mashed potatoes on pizza."
Challengers Comics 
1845 N. Western Ave, Chicago, IL 60647