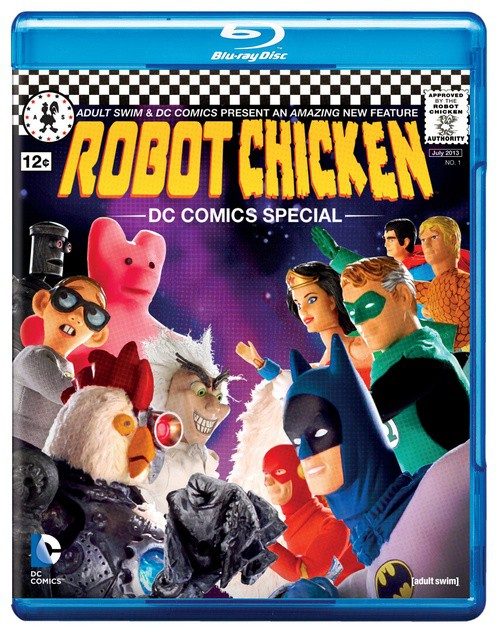 This week Adult Swim and DC Entertainment released the Robot Chicken DC Comics Special on Blu-ray and DVD! Like a medieval jester speaking truth to power, Robot Chicken's spoofs and irreverent humor allow them to point out the inconsistencies and flaws of the DC Universe. For instance, they bring Superman's power to erase memories with a kiss to it's obvious conclusion and what real nerds would do with the power of a Green Lantern ring. The show also makes several deep pulls from the DC mythology citing characters like B'dg and Mister Banjo (I had to look them up too).
While everybody gets lampooned at some point, the overarching theme of the special would be how much of a tool is Aquaman. All the hard work writer and Chief Creative Officer Geoff Johns has done in the comics to establish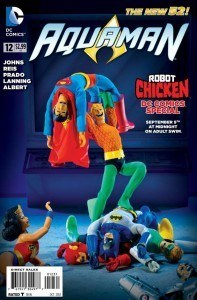 Aquaman as a cool character is wiped away within the first ten seconds of the show. Which is especially perplexing since Johns is also a writer and executive producer of Robot Chicken.
The Blu-ray/DVD contains over two hours of bonus features including commentaries by the cast and crew, footage of the Robot Chicken team cosplaying for the special's premiere, and a tour of DC Entertainment's west coast office. Fun fact: Robot Chicken co-creator Seth Green has an Arashikage ninja clan tattoo on the inside of his right arm.
Press Release:
This July, the Robot Chicken television series heads back to Blu-ray™ and DVD – and this time, the DC Comics universe is at the center of its Emmy® Award-winning stop-motion lampooning. Stoopid Buddy Stoodios, in partnership with DC Entertainment and Warner Bros. Animation, continues to build its repertoire of dishing out hilarious sketch comedy parodies in the all-new Adult Swim Blu-ray and DVD release, Robot Chicken DC Comics Special. The special, which boasts an all-star cast as well as characters Robot Chicken fans have grown to love, provides a unique take on some of the most iconic superheroes from the DC Comics universe – along with others whose powers can't really be called "super." It will be available on Blu-ray and DVD on July 9, 2013 for the suggested retail price of $19.98 and $14.98, respectively.
With more than two hours of bonus content created by the special's producers, including deleted scenes, commentaries, outtakes and more, the Robot Chicken DC Comics Special Blu-ray and DVD is a must-own addition for fans of Robot Chicken and DC Comics alike. The special's all-star cast includes series co-creator and executive producer Seth Green as Batman, Robin and the put-upon Aquaman; Neil Patrick Harris as Two-Face; Alfred Molina as Lex Luthor; Nathan Fillion as the Green Lantern; Megan Fox as Lois Lane; series and special writer/voice talent Breckin Meyer as Superman, plus Abe Benrubi, Alex Borstein, Clare Grant, Tara Strong, series co-creator and executive producer Matthew Senreich, series co-head writer/co-executive producer Tom Root, series director Zeb Wells and Kevin Shinick as co-producer, writer and narrator.
The list of special features included on the Robot Chicken DC Comics Special Blu-ray and DVD include:
· The Making of Robot Chicken DC Comics Special
· Robot Chicken DC Comics Special's Aquaman Origin Story
· Chicken Nuggets
· Writers' Commentary
· Actors' Commentary
· DC Entertainment Tour
· Stoopid Alter Egos
· Outtakes
· Deleted Sketches
· 5.2 Questions
Executive producers for the Robot Chicken DC Comics Special include Green, Senreich, DC Entertainment Chief Creative Officer Geoff Johns, Warner Bros. Animation's Executive Vice President, Creative Affairs Sam Register, and Stoopid Buddies Stoodios' John Harvatine IV and Eric Towner. Green directs the 23-minute special with a script by co-head writers/co-executive producers Douglas Goldstein and Root along with Robot Chicken series writers Green, Senreich, Mike Fasolo, Zeb Wells, Matthew Beans, DC Entertainment's Johns, Men at Work and Franklin & Bash's Meyer and MAD's Shinick. Janet Dimon is supervising producer and Ethan Marak is co-producer.