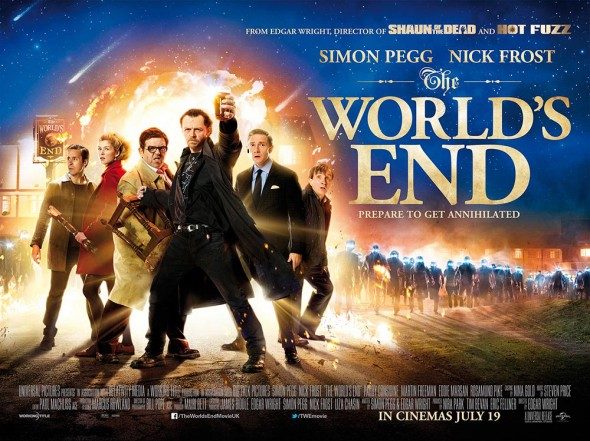 EDGAR WRIGHT appears to sign free posters for THE WORLD'S END at the Forbidden Planet London Megastore on Thursday 4 July 2013 from 5:00 – 5:30 pm!
Twenty years after attempting an epic pub crawl, five childhood friends reunite when one of them becomes hellbent on trying the drinking marathon again. They are convinced to stage an encore by Gary King (Simon Pegg), a forty-year-old man trapped at the cigarette end of his teens, who drags his reluctant pals to their hometown and once again attempts to reach the fabled pub – The World's End. As they attempt to reconcile the past and present, they realise the real struggle is for the future, not just theirs but humankind's. Reaching The World's End is the least of their worries.
Edgar Wright is a genre-smashing creator, a film and television director and writer. He worked with Simon Pegg, Nira Park and Nick Frost on the films Shaun of the Dead and Hot Fuzz, the TV series Spaced, the upcoming 2013 film The World's End, and he directed the film Scott Pilgrim vs. the World. He co-wrote Steven Spielberg's The Adventures of Tintin with Joe Cornish and Steven Moffat. He will also direct a film adaptation of the Marvel Comics superhero Ant-Man.
PREPARE TO GET ANNIHILATED FROM 19th JULY!
Please note that posters will be limited to one per person, and cannot be pre-ordered.
Forbidden Planet London Megastore
179  Shaftesbury Avenue, London, WC2H 8JR