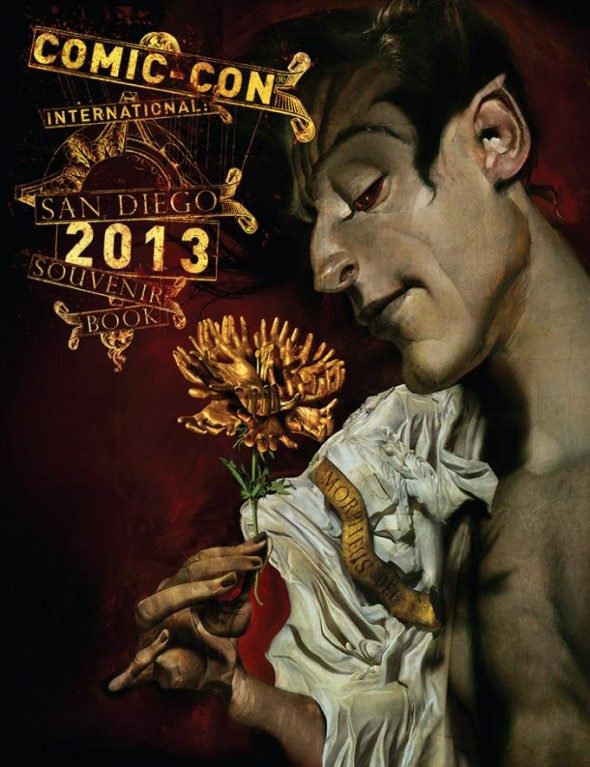 Via The Toucan Blog:
Dave McKean's Stunning Sandman Cover for the Souvenir Book Revealed!
2013 marks the 25th anniversary of Neil Gaiman's The Sandman series. The fan-favorite series started in late 1988 with its first story arc drawn by Sam Kieth, with numerous artists to follow in its 75-issue run. Besides Gaiman, one other constant throughout the series was cover artist Dave McKean, who created beautiful, ethereal images through painting, collage, and construction that set the tone for the story inside. Dave's style of cover art was unseen in the world of comics up to that point.
Dave (along with Neil Gaiman, Sam Kieth, and J. H. Williams III, the artist of the upcoming Sandman mini series) is a special guest at Comic-Con this year. In honor of the 25th anniversary of The Sandman, he's created a new exclusive piece of art for the Comic-Con Souvenir Book cover, which perfectly captures the essence of Morpheus. In addition to Dave's art appearing on the cover of our keepsake Souvenir Book, it will also be one of the official Comic-Con 2013 T-shirts (more on that later)!
For more information on this year's CCI 2013 Souvenir Book, please click here.