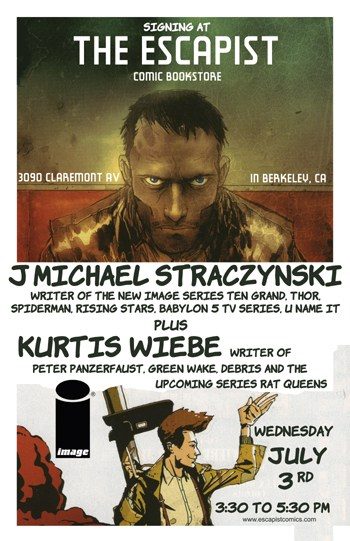 J. Michael Straczynski and Kurtis Wiebe, in town for Image Expo on July 2nd at the Yerba Buena Center, are signing at the Escapist Comic Bookstore on Wednesday, July 3rd.
Straczynski is a comics icon. His 7 year run on Spider-Man was hailed for being both great and controversial, His other comics work includes Thor, Wonder Woman, Superman, Teen Titans, Brave and the Bold, Before Watchmen (Night Owl and Dr. Manhattan) and Superman Earth One. His own line of Joe's Comics published by Top Cow and now Image include Rising Stars, Midnight Nation and his current title Ten Grand (with artist Ben Templesmith). There is more to come from Joe's Comics in the coming months. In his TV career he was executive producer and writer for Babylon 5, its spin-off Crusade, and Jeremiah.
Kurtis Wiebe has written many comics for Image. His credits include the Intrepids, Green Wake (for which he won a Shuster award), and Debris. His current comic, Peter Panzerfaust is also printed by Image. It is being made into a motion comic with voices supplied by Elijah Wood and Ron Perlman. There is also a TV show in the works. His new comic, Rat Queens has been announced.
signing schedule:
Wiebe – 3:30 pm to (aprox.) 5 pm
Straczynski – 4:00 pm to 5:30 pm
Don't come late. Mr. Straczynski has to be whisked off to catch a plane after the event. If traffic is bad, he could be a whirlwind.
Escapist Comics
3090 Claremont Ave, Berkeley, CA 94705