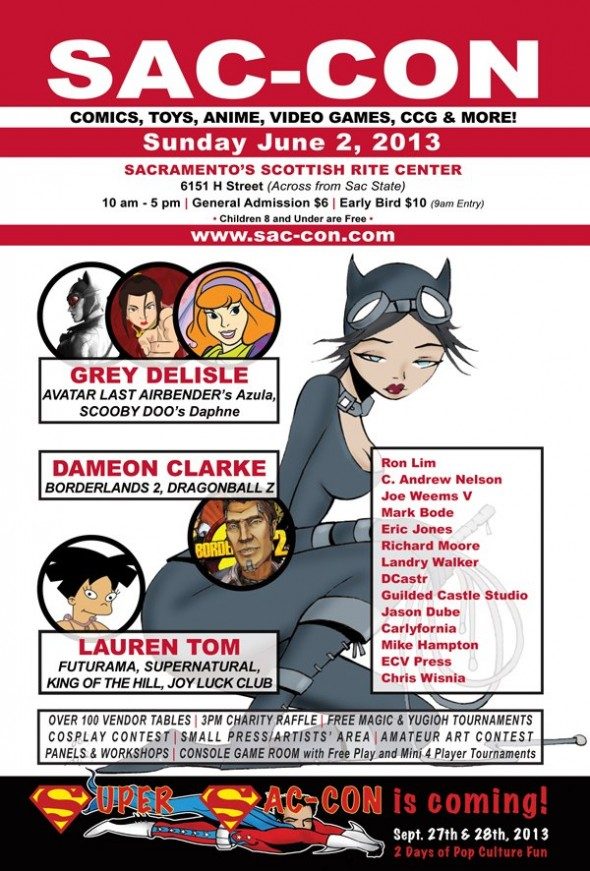 Sac-Con is Sunday June 2nd at the Scottish Rite Center in Sacramento (6151 H Street).  10am – 5pm.  Admission is $6 at the door (Children 8 & under Free.  Early Bird (9am Entry) is $10 at the door. 
 SPECIAL GUESTS:

Grey DeLisle

Arkham City's Catwoman, Avatar: The Last Airbender's Azula, Scooby Doo's Daphne

1st Autograph Free, each additional $20


Lauren Tom

Futurama's Amy Wong, Avatar: The Last Airbender's Joo Dee

Lauren will charging for her autograph.
Dameon Clarke

Borderland 2's Handsome Jack, Dragonball Z's Cell
Dameon will not be charging for his autograph.
Limit 1 per person.

C. Andrew Nelson

Darth Vader in all recent Lucasfilm and Lucas Arts projects.

C. Andrew will be charging for his autograph.

JOE WEEMS V
MARK BODE
ERIC JONES
KEPI GHOULIE
RICHARD MOORE
LANDRY WALKER
DCASTR
GUILDED CASTLE STUDIO
JASON DUBE
CARLYFORNIA
MIKE HAMPTON
ECV PRESS
CHRIS WISNIA
 Check out some of our great events at the show:
Cosplay Costume Contest
Video Game Tournaments
Huge Vendors Room
3pm Charity Raffle
Panels/Q & A's with our guests  
Free Yugioh & Magic Tournaments
Anime Viewing Room 
and more!