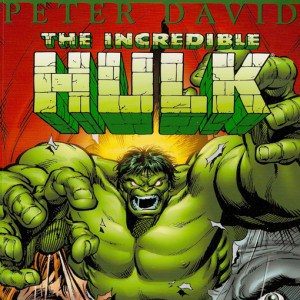 Press Release:
PETER DAVID, acclaimed "writer of stuff," including HULK, X-FACTOR, and STAR TREK, goes one-on-one with comics writer, editor, and critic DANNY FINGEROTH (author of SUPERMAN ON THE COUCH) for a freewheeling discussion.
WEDNESDAY JUNE 5, 2013
7:00-9:00 PM
Event will be held at:
The Soho Gallery for Digital Art
138 Sullivan Street (between Houston and Prince), New York, NY 10014
212-228-2810
ADMISSION:
Purchase ticket in advance: $10
Pay at the door: $15
ABOUT Peter David
PETER DAVID is a prolific, award-winning author whose career, and continued popularity, spans more than two decades. He has worked in every conceivable media: Television, film, books (fiction, non-fiction and audio), short stories, and comic books, and acquired followings in all of them. In the literary field, Peter has had over fifty novels published, including numerous appearances on the New York Times Bestsellers List. Peter's comic book resume includes an award-winning twelve-year run on The Incredible Hulk, and he has also worked on such varied and popular titles as Supergirl, Young Justice, Soulsearchers and Company, Aquaman, Spider-Man, Spider-Man 2099, X-Factor, Star Trek, Wolverine, The Phantom, Sachs & Violens, and many others. His website is www.peterdavid.net.
DANNY FINGEROTH was a longtime writer and editor for Marvel Comics and was Senior VP of Education at The Museum of Comic and Cartoon Art (MoCCA). He is the author of Superman on the Couch and Disguised as Clark Kent; and co-editor (with Roy Thomas) of The Stan Lee Universe, a treasury of interviews, articles, and mementos relating to the co-creator of the Marvel Universe. Find out more at: www.dannyfingeroth.com.
Soho Gallery For Digital Art is a multi-purpose event space, art gallery and theater.
We are located at 138 Sullivan Street btwn Houston and Prince. The gallery is 2000 sq. feet on 2 floors with 16 40″ digital canvases that can be customized for any event as well as projector and screen in our 75-seat theater downstairs.
Centrally located in an iconic NYC neighborhood, SGDA has hosted all types of events; company parties, corporate meetings, product launches, film screenings, film shoots, art shows, fashion shows, theatrical performances and special occasions.
If you can dream it, we can do it.