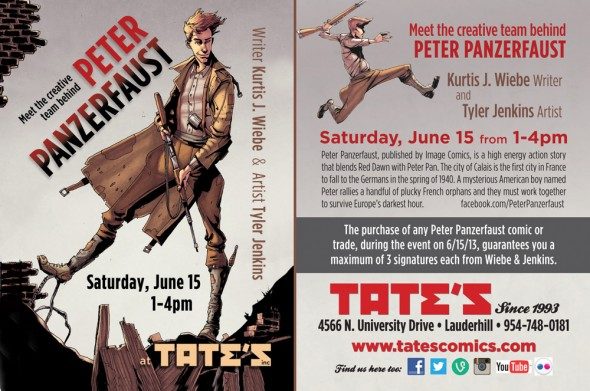 Writer Kurtis J. Wiebe and artist Tyler Jenkins sign at Tate's Comics on Saturday, June 15, 2013 from 1:00 until 4:00pm!
Peter Panzerfaust, published by Image Comics, is a high energy action story that blends Red Dawn with Peter Pan. The city of Calais is the first city in France to fall to the Germans in the spring of 1940. A mysterious American boy named Peter rallies a handful of plucky French orphans and they must work together to survive Europe's darkest hour.
The purchase of any Peter Panzerfaust comic or trade, during the event on 6/15/13, guarantees you a maximum of 3 signatures each from Wiebe & Jenkins.
Tate's Comics
4566 N. University Drive, Lauderhill, FL 33351