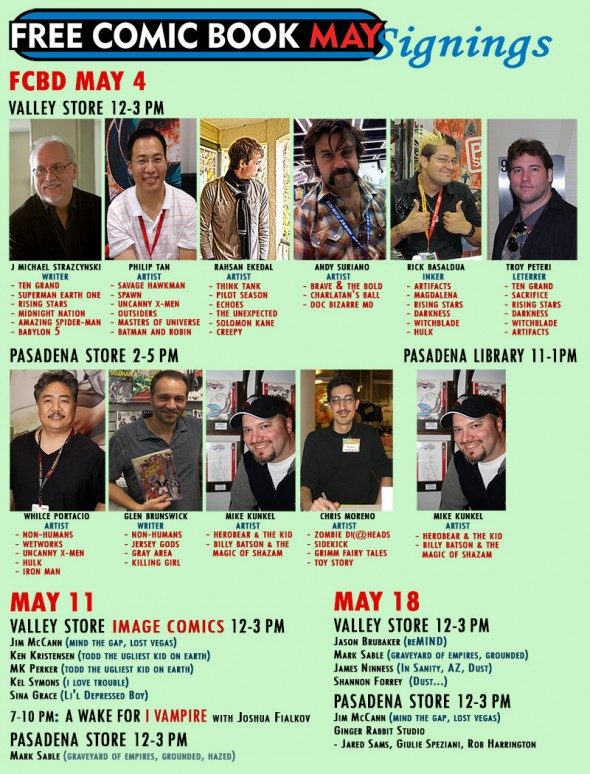 Press Release:
Collector's Paradise Comics & Gallery, is proud to announce that we will, once again, be bringing Free Comic Book MAY to Los Angeles area this year, in celebration of the National Free Comic Book Day!
"Last year's Free Comic Book May was an exhilarating event." said owner Edward Greenberg, adding: " We learned so much about how to do this, and will use the lessons this year to provide an even better experience for our patrons."
The concept of Free Comic Book MAY is simple. Come to one (or both) Collector's Paradise stores on Free Comic Book Day, May 4th, get your free books, and receive a Free Stamp Card. Come back the following Saturday, and get a stamp, and get more free books (details below). As long as you continue to attend and receive stamps, you can keep coming back every Saturday in May and get more free books, including, during the last week of the month, FREE Graphic Novels. The four weeks are designed to spotlight different types of books:
– May 4th – Free Comic Book Day, books provided by many publishers, range of options. PLUS: BUY 3 GET 1 FREE on anything in the store.
– May 11th – Free Superhero Comic Day, free superhero comics by major publishers. PLUS: 50% OFF All single issue Comics on the Shelves.
– May 18th- Free Independent Comic Day, free indie books, chosen by us, and contributed by our good friends, creators and publishers. PLUS: Comics by the Pound.
– May 25th – Free Graphic Novel Day, free Graphic Novels, once again chosen by us and contributed by our friends. PLUS: BUY 1 GET 1 FREE on all Hardcover Graphic Novels.
Collector's Paradise will be holding Creator Signing Events during the month of May, to promote some of the most interesting new creators and projects out there.
Saturday May 4th, Free Comic Book Day:
San Fernando Valley Store: 12-3 pm
J. Michael Strazcynski – Creator of Babylon 5 TV Show, creator/writer of the hot new series TEN GRAND, as well as Rising Stars, Midnight Nation, writer on Superman Earth One HCs, Amazing Spider-Man, Thor, and Superman.
Philip Tan – Artist on DC's NEW 52 Savage Hawkman, and the new Masters of the Universe series, as well as Uncanny X-Men, Spawn, Batman & Robin, and many more.
Rahsan Ekedal – artist on the hot new series THINK TANK, as well as Top Cow's ECHOES and Pilot Season, Solomon Kane, Creepy and DC's The Unexpected.
Andy Suriano – artist on DC's Batman Brave & The Bold, Image Comics' Charlatan's Ball and Doc Bizarre MD, as well as an amazing animator.
Rick Basaldua – a fantastic inker on many projects from Top Cow (Artifacts, Magdalena, Darkness), as well as Marc Silvestri's run on HULK.
Troy Peteri – an accomplished leterrer, working with J. Michael Straczynski on TEN GRAND, as well as past projects, plus many titles in the Top Cow library of books.
Pasadena Store: 2-5 pm
Whilce Portacio – Legendary comic creator, co-founder of Image Comics, co-creator and artist on the hot new Image Comics series, Non-Humans, with Glen Brunswick, as well as creator of Wetworks, and artist on Uncanny X-Men, Hulk, Iron Men and much more.
Glen Brunswick – co-creator and writer of Non-Humans, as well as many other fantastic books for Image Comics, including Gray Area (with John Romita Jr), Jersey Gods, and Killing Girl.
Mike Kunkel – an incredible Animator, and creator/writer/artist on the Classic comic book series, Herobear & The Kid, which comes back on Free Comic Book Day via Boom! Studios, as well as the artist on DC's Billy Batson & The Magic of Shazam.
Chris Moreno – Creator / Artist on Zombie Dickheads, as well as the artist on Image Comics' and more recently Kickstarter-resurrected Sidekick, as well as Disney's Toy Story and more.
Saturday May 11th, Free Superhero Comic Book Day
San Fernando Valley Store
IMAGE COMICS SIGNING, 12-3 pm, featuring:
Jim McCann – Mind the Gap, Lost Vegas
Ken Kristensen – Todd the Ugliest Kid on Earth
MK Perker – Todd the Ugliest Kid on Earth
Kel Symons – I Love Trouble
Sina Grace – Lil Depressed Boy
A WAKE FOR I, VAMPIRE, 7-10 pm
Joshua Fialkov & Friends – we say goodbye to a critically acclaimed and loved by fans series with a party featuring thematically named alcohol drinks for anyone over 21, a Eulogy contest, as well as many other highly inappropriate hijinx, more details to be announced soon on our website and Facebook/Twitter feeds.
Pasadena Store, 12-3 pm:
Mark Sable – Creator/ writer of Graveyard of Empires, as well as Grounded, Hazed and many others.
Saturday May 18th, Free Independent Comic Book Day

San Fernando Valley Store, 12-3pm
Jason Brubaker – ReMIND
Mark Sable – Graveyard of Empires
James Ninness – In Sanity, AZ
Shannon Forrey – Dust GN
Pasadena Store, 12-3pm
Jim McCann – Mind the Gap, Lost Vegas
Ginger Rabbit Studio – Jared Sams, Giulie Speziani, Rob Harrington
Please visit Collector's Paradise' official site, ComicsAndCards.net for full details about our Free Comic Book Day and Free Comic Book MAY Events.
For additional information, please contact Edward Greenberg, managing partner of Collector's Paradise @ 818-999-9455 (business) or by email, at store@comicsandcards.net
Collector's Paradise Canoga Park is located at 7131 Winnetka Ave, at Sherman Way in Canoga Park. Collector's Paradise Pasadena is located at 319 S. Arroyo Parkway Unit 4, at the corner of Del Mar in Pasadena.