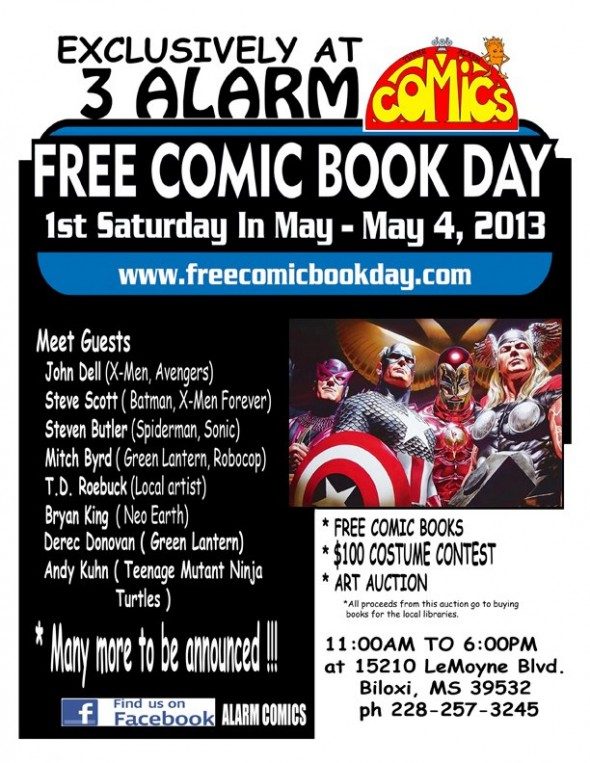 Andy Kuhn, John Dell, Derec Donovan, Mark Probst, and many more sign at 3 Alarm Comics on Saturday May 4, 2013 for Free Comic Book Day!
Andy Kuhn – Fire Breather, TMNT, Spider-Man, Batgirl
John Dell – Guardians of the Galaxy, Avengers vs X-Men, JLA
Mark Probst – Action Comics New 52, Aquaman, JLA
Steven Butler – Spider-Man, Sonic, X-Men
Mitch Byrd – Green Lantern, Lady Death, Generation X
Steve Scott – Batman, JLA, She-Hulk
Derec Donovan – Youngblood, Green Lantern, R.E.B.E.L.S.
Barry Gregory – Ka-Blam Digital Printing
Thomas Florimonte – Ka-Blam Digital Printing
Wade Acuff – Lord Of the Rings Movies, Nickelodeon's Lazy Town
Bryan King – Neo-Earth
Andy Childress – Bubbaworld Comix
T.D. Roebuck
Saga
Sarah Link
Kevin Hayman
PLUS a Cosplay Contest with a $100 prize
AND Raffles and Auctions held with all proceeds going to local libraries.
3 Alarm Comics
15210 Lemoyne Blvd, Biloxi, MS 39532
228-392-9833